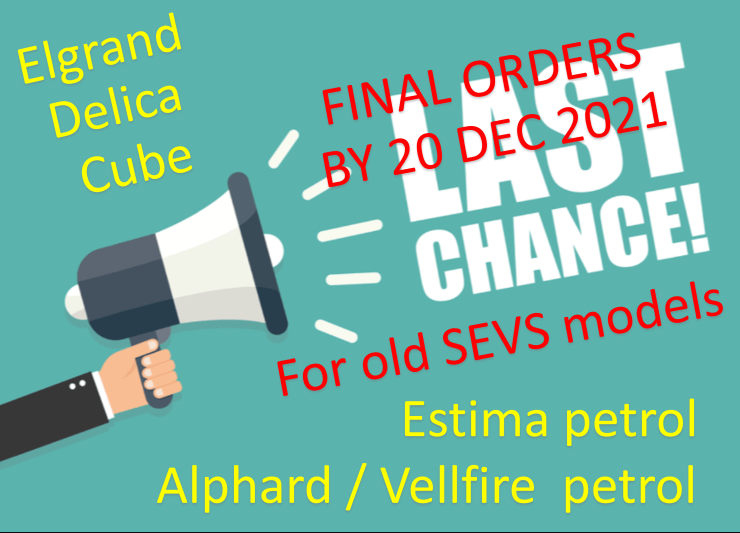 Changes to the import regulations for Australia have been dragging on for so long (over 6 years) that some people may not realise that many popular older models will soon become impossible to import.
A whole range of models will be blocked from 1 April 2022, including petrol / diesel people movers like the Nissan Elgrand, Toyota Estima, Mitsubishi Delica, Toyota Alphard and Toyota Vellfire.
Petrol and diesel ONLY people movers are finished for Australia and other models like the Nissan Cube will also be blocked for import in the next 6 months.
The last import approvals will be issued for old SEVS models on 31 March 2022 and the compliance plate must be fitted to the car by 30 June 2022.
Import volume is currently very high which together with Covid-related clearance and compliance delays is extending the usual import timeframe from 8 weeks to between 12 – 16 weeks, with the longest delays for Sydney.
We will take our last orders for all old SEVS models on 20 December 2021.
This allows for sourcing a suitable vehicle plus the current import timeframe and the import approval and compliance deadlines.
New SEVS will see a transition mainly to hybrid electric and performance models that were not sold new in Australia, plus different variants of models that were sold here new. READ MORE…
If you want to import an old SEVS model that is marked for deletion, best do it ASAP to avoid disappointment.
These vehicles are as popular as ever with many people now wanting to turn them into campers for travel with Aust, so a real crunch is coming in 2022 when they can no longer be imported and local prices are bound to rise thanks to continued strong demand but zero new supply.