Lets' start with COST – Selecting your own car from Japan and importing it yourself allows you to avoid the profit margins of 'middle-men'.
Now QUALITY – You can choose to pay much less for the
same quality car

, OR put some or all of the savings into buying a

much better quality car

.
Most end users prefer the latter option – they simply do not want the cheaper car once they see the true condition.
A very cheap car is priced less for a reason – it may not be as safe to use and will cost more over the years in repairs and maintenance.
The below graph compares auction buy price, dealer profit margin, our service fee and import costs (such as shipping and taxes) on a car costing $20,000 to import – highly simplified of course but you get the idea -> save money or buy a better car, your choice.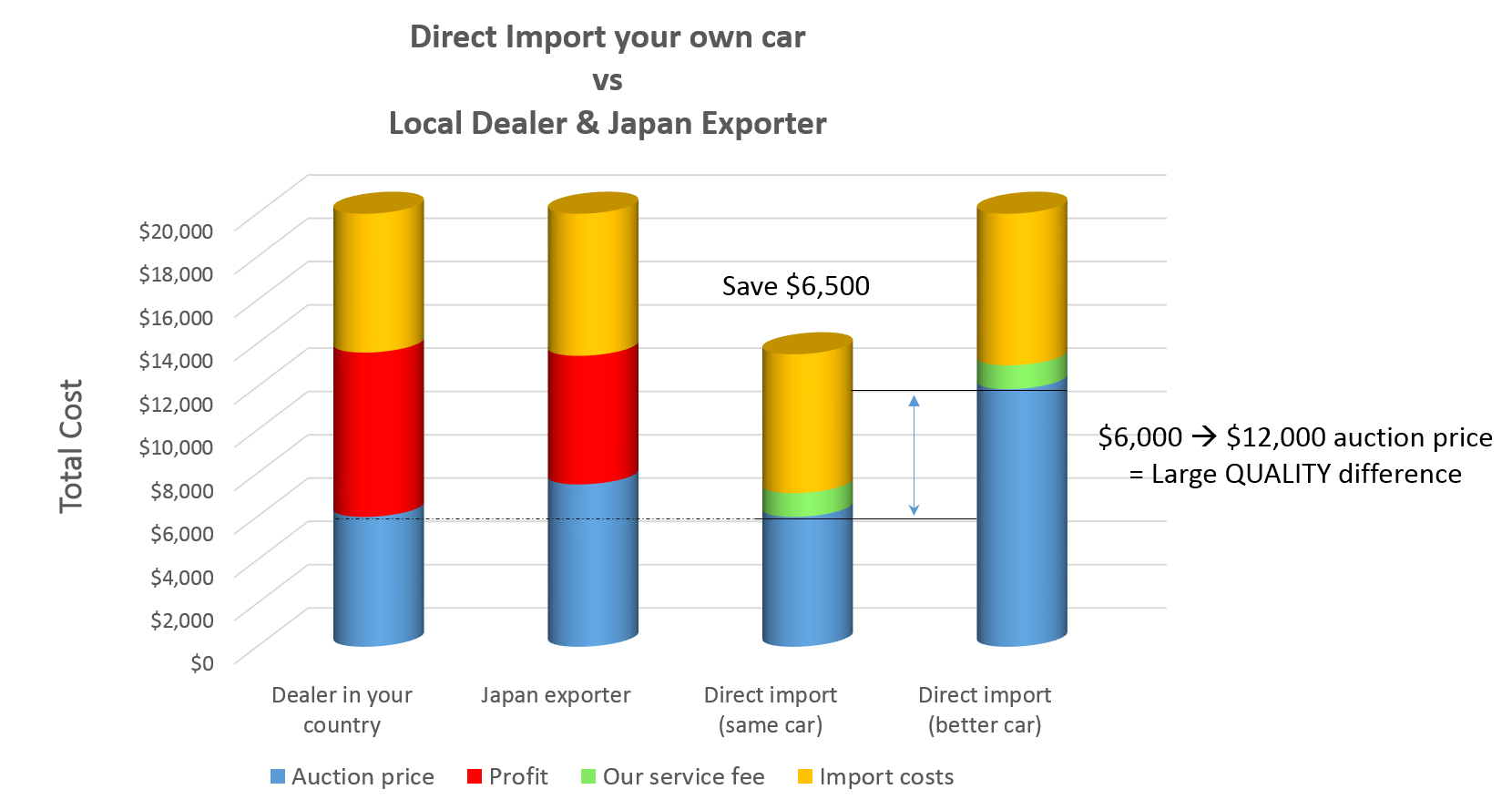 So, is it cheaper to import your own car ?
We are asked this constantly. The answer is almost always, YES, for the SAME QUALITY car.
YOUR SAFETY – The used car business is one of the most deceptive and competitive worldwide.
Exporters based in Japan and importers / dealers in other countries make a living from selling cars for more than they paid.
Winding back odometers, falsifying auction reports, and hiding poor condition and past repairs are all common practice to increase profit margins – done so professionally that the average person would not know.
The lax import laws in most countries together with international transport through a number of hands makes it easy for these scammers to operate.
That means a 1st time importer with no idea of how the car import industry works has virtually no chance to avoid being taken advantage of

one or more times

along the way.
This can be very stressful and expensive but can be easily avoided by engaging a professional import agent with a good track record.
TOP 10 MISTAKES Made by the 1st Time Car Importer
Buying a car with false km or misrepresented specifications (wrong year or model)

Buying a car with poor condition / accident history that needs expensive repairs

Receiving no car or the wrong car after sending money overseas

Buying a car that is not eligible for import to their country

Shipping a car without an Import Approval

Overcharged on the auction price or agent fees in Japan, shipping, import taxes etc.

No idea of the import process and costs

Getting hit with unnecessary local charges for Quarantine cleaning

No idea of import laws for airconditioning gas and asbestos

Claiming a falsely low purchase price at Customs clearance
Of course receiving the wrong car (or nothing at all) is a great risk when dealing with an unknown overseas company, as is paying an inflated auction price, but any of the other situations can also be very costly.
If you ship a car to Australia without an Import Approval, not only will you have to pay for it to be exported or destroyed, but Customs may impose up to $12,000 fine.
Extra Quarantine cleaning can end up costing $600, being overcharged for shipping, import duty etc. can run into thousands, and falling foul of asbestos regulations could cost you over $10,000 in testing and fines.
Why Use Us ?
Experience – We have sourced thousands of vehicles from the Japanese car auctions and shipped them around the world over the last 20 years. We know all the ins and outs which will save you from the above mistakes, and we spend the time needed up front (at no cost) to ensure we can meet your expectations before going ahead.
Licensed – We are a fully licensed import agent, DL14688.
Auction Access – We have direct member access to the auctions including sale price and other data not available to the general public. We can provide current market pricing and guidance for any model. Auction data is provided FREE on our website – no login, no membership required. We are here to help, not lock you in.
Auction Alerts – Our automated Auction Alerts system provides daily email updates as vehicles come up for auction, so you'll never miss a car. Try it for FREE
Auction Coverage and Personal Inspections – Our auction agents physically attend all the large Japanese auctions and inspect every vehicle in person, providing more pictures and details on auction day. We have used them for many years as they are 100% honest and reliable. Watch short video of how we work on auction day
Export paperwork – We have a streamlined process in Japan for de-registration and export.
Your original Export Certificate together with books, spare keys and other items received from the seller will be sent to you by EMS and a tracking number provided. Your vehicle will be booked for shipping on the first available vessel.
Shipping – We get very competitive bulk shipping rates for 'all-in' shipping to Australia and NZ.
This includes pre-clean and Quarantine pass prior to export from Japan as well as Customs clearance on arrival.
We use the most reliable and cost-effective services for an easy, streamlined process.
We can save you as much as $1,000 simply with the discounted shipping price and by avoiding unnecessary Quarantine cleaning / re-inspection.
Customer Service – We are well known for our thorough and rapid responses to customer enquiries.
Many companies seem to have forgotten what they owe their customers, but we never will.
Having started out importing our own cars, we remember how daunting it can feel. We are here to help you with one point of contact from start to finish.
Once on our system as a client, we will always know who you are from the moment you get in touch.
Compliance Procedures – We know who to deal with for the most reliable service (and those to avoid).
Honesty – We are an import agent, and charge a fixed service fee per vehicle we source.
No hidden costs, ever. Unlike a dealer who has a vested interest in selling you a specific vehicle, we don't sell vehicles.
We manage the purchase and import process and you simply pay all costs directly AT COST, meaning our interest is always the same as yours – the best quality vehicle for your budget.