Toyota Vellfire Hybrid 20 Series (2011 to 2014)
Import Eligibility and Model Information

Several models of the 2002 to current Toyota Alphard and Vellfire are eligible for import to Australia under the SEVS import regulations, based on being either a Hybrid or a Welcab / Welfare vehicle with disabled access features.
This page focuses on the Vellfire Hybrid 20 Series model made from 2011 to 2014.  If you are interested in other choices please see:
The Toyota Vellfire has remained Japan's best selling people mover for much of the time since its first release in Japan in 2002. It is larger and has more luxury options than the Toyota Estima / Tarago and is a direct competitor of the Nissan Elgrand.
Toyota makes a less sporty version of the Vellfire called the Alphard, which also comes in Hybrid form.
The full-size Vellfire Hybrid MPV 20 Series was released in Japan in November 2011 and qualifies as an Ultra-Low Emissions Vehicle (ULEV), with emission levels 75% lower than the Japanese government's year 2000 benchmark.
To achieve this the Vellfire Hybrid is powered by a 2.4L petrol engine in tandem with an electrical motor and batteries which together produce an impressive 265 kW.
The 2.4 L engine has been developed specifically for use in Toyota's hybrid systems and features a high-expansion ratio cycle that raises efficiency and reduces friction.
Toyota's E-Four electric 4WD system regulates the rear-mounted, rear-wheel-propelling electric motor and coordinates electric power distribution seamlessly to all four wheels.
The ECB (Electronically Controlled Brake system) provides efficient wheel-by-wheel brake control coupled with "by-wire" technology that monitors brake pedal pressure and vehicle speed in order to calculate the optimum hydraulic pressure.
By-wire works with the E-Four 4WD system to maximise the collection of kinetic energy from braking for conversion into electric power to recharge the batteries.
The Vellfire Hybrid elecrtrical system can generate up to 1,500 watts and is equipped with AC power outlets which can be used to power laptops or other appliances.
Fuel Efficiency
The Vellfire Hybrid achieves approximately 5.6L / 100km. In addition to the hybrid powertrain, the Vellfire has features to maximise efficiency and reduce fuel use.
The Vellfire Hybrid has specially developed windscreen glass to reduce the amount of solar radiation penetrating the cabin. In addition, the roof and roof panels contain an insulating material to control cabin temperature, which helps conserve energy when the air conditioner is operating, and a two-way compressor is incorporated in the motor to optimise the use of the airconditioner.
A significant amount of money can be saved by importing a Toyota Vellfire Hybrid directly from auction Japan, and we make it easy to select the best, genuine low km examples and import them to Australia for the lowest price.
Please contact us if you require further information about importing a Toyota Vellfire Hybrid and a current price estimate for any model specification.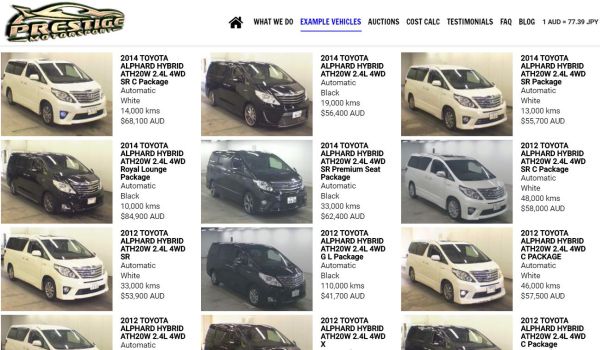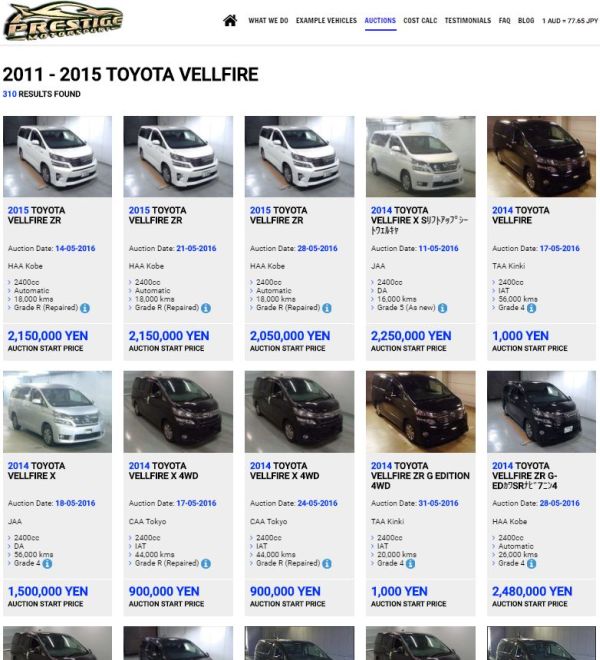 Toyota Vellfire Hybrid Features
The Toyota Vellfire Hybrid comes with HID lights, push button start and intelligent key with keyless entry as well as various factory options including:
Seating for up to 8 people
Dual electric sliding doors
Radar cruise control
Front and side cameras
Parking sonar
Lane departure warning system
Dual sunroof
Leather seats
Power curtains
Multiple airbags
ABS brakes
Traction control
Brake assist
Electronic Braking Distribution (EBC)
Dual zone climate control
Power curtains
CD player/stacker
Power folding mirrors
Steering wheel controls
Adjustable suspension (sport and soft options)
Interior lighting
Front and rear fold down display screen
Split folding rear chairs
Toyota Vellfire Hybrid Model Range
Many option levels were available for the 2011 to 2014 Vellfire Hybrid with new prices in Japan ranging from 3.95 to 6.12 million Yen. Models in order of increasing cost were as follows:
X
V
ZR
VL Edition
ZR G Edition
V Premium Seat Edition
ZR Premium Seat Edition
Toyota Vellfire Hybrid Pictures