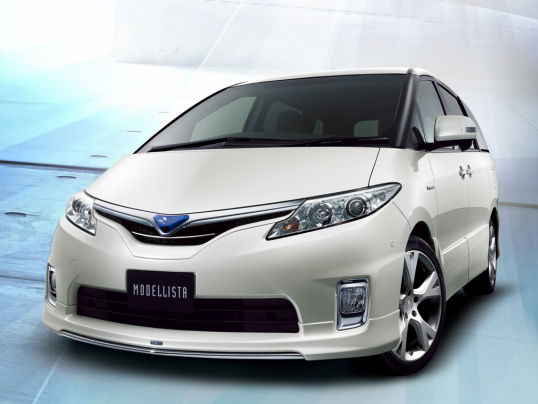 Toyota Estima Hybrid Import to Australia is now possible with SEVS compliance available in several States for the full build range of Estima 2.4L hybrid.
The hybrid Estima is easily identified in searches by using the chassis code AHR20 / AHR20W and is also known as the Toyota Tarago in Australia, and the Toyota Previa in other markets.
7 and 8 seat versions are available and popular factory options include powerslide doors, power tailgate, leather seats, radar cruise control and sunroof.
The Toyota Estima Hybrid was produced in Japan from way back in 2002, with the first series known as the AHR10 series. These cost < $10,000 on road to import.
The second series AHR20 was offered from 2006 until production ended in October 2019. Prices range from about $11,000 complied (plus on road costs) at the time of this post.

Like the Alphard hybrid, the Estima hybrid is 4WD with the 2.4L petrol engine powering the front wheels and the electric motor driving the rear wheels.
The Estima hybrid employs Toyota's Hybrid Synergy Drive technology, which achieves high fuel efficiency, low emissions, outstanding driving performance and quiet operation.
The Estima Hybrid boasts one of the highest fuel efficiency figures in its class combined with the responsiveness of a hybrid vehicle, smooth, powerful acceleration and extremely quiet operation.
The E-Four system has a high-output rear mounted electric motor powering the rear wheels, which works together with the petrol engine driving the front wheels.

The Estima hybrid was the first minivan to use VDIM (Vehicle Dynamics Integrated Management), which optimally balances power, steering and braking for improved handling and stability.
For those concerned that the 2.4L Estima hybrid won't keep up with an equivalent 3.5L petrol Estima, note that performance is similar at around 11 seconds 0 to 100 km / h – fairly impressive for a people mover weighing over 1,900 kg and achieving combined fuel economy of around 5.55 L / 100 km (18.0 km / L).
It is for this reason that sales of the petrol Estima in Japan dropped right off from 2010, with hardly any sold in later years.
2010 therefore marks the time that Japan made a big shift to hybrid Estimas, with the 3.5L petrol option no longer offered by Toyota after the mid-2016 model facelift.
This is very clear at the car auctions in Japan, where there are only a handful of 2010+ petrol-only Estimas auctioned every month.
Production of the Estima hybrid finally ended in October 2019, due to a general decline in demand for minivans within Japan together with the growing popularity of the Alphard and Vellfire models which are built on the same platform and are similarly priced.
Note that by 2022, the Toyota Estima 3.5L petrol will no longer be eligible for import to Australia under import regulation changes that began in December 2019, from then on the only import choice will be the Estima hybrid.
Given the advances in hybrid technology and base import costs, if your budget allows we recommend you consider buying a 10 year old or newer Estima hybrid for the best value for money.
A 2009 Toyota Estima hybrid X or G model currently costs from $14,000 complied (plus on road costs) if you don't mind a clean example with over 120,000 km, or from about $22,000 complied (plus on road costs) for near new high spec examples with under 50,000 km.
Prices vary significantly over time and this model will become an increasingly attractive import option in future. Simply get in touch for detailed current pricing for the Toyota Estima Hybrid based on model spec and your location.
Never had a hybrid before and worried about performance, general maintenance and battery life compared to a regular petrol car ?
There are several points worth noting about hybrid vehicles.
In everyday use many would argue that the hybrid is a lot nicer to drive than a petrol only vehicle.
They are very quiet, as they turn off the engine at low speeds and while stopped in traffic or at the lights.
The E-Four system used in the Estima hybrid is 4WD with the electric motor powering the rear wheels with around 30% of the total output, so is more sure-footed than the 2WD model.
The immediate power and torque available from the battery and electric motor at low speeds means very responsive and quick take off, making the vehicle feel nimble and easy to drive particularly in the city.
Power recovery to the battery from automatic regenerative braking as you lift off the accelerator means less wear on brakes plus easier driving in traffic with less need to use the brakes.
Yes – a hybrid has additional components in the drivetrain with the battery and electric motor. However, due to the way the hybrid system works in tandem with the petrol engine, overall there is less load on the petrol engine, this in turn means generally less wear and therefore less required maintenance.
Naturally the battery system will over time require service / replacement as cells age, but Toyota is a world leader in hybrid technology and has a very good track record with battery life.
You can expect a good 10 to 15 years out of the hybrid battery depending on usage, and all this time you will be saving on the cost of fuel (for most people this would be in excess of $1,500 saving per year in fuel compared to a petrol only Estima in typical weekly usage).
A full replacement battery would cost in the $4,500 range, or far less if certain faulty cells can be individually identified and replaced, so if you do have issues with the battery, even in the worst case it's clear you would still be way in front over time.
A Toyota Estima hybrid import simply uses the same technology as the locally sold Toyota Camry hybrid, RAV4 hybrid, and Lexus hybrids. So any good mechanic with hybrid experience can work on them including using standard diagnostic tools to check battery cell voltages and read / reset error codes from the computer.
Why choose us for your Toyota Estima Hybrid Import ?
Toyota Estima Hybrid Import is very simple using our reliable import process. We allow you to select the very best vehicles directly from auction, and we inspect them in person for you with additional pictures prior to auction.
We then arrange and monitor the whole import process for you, and in most cases the compliance workshops we recommend can also register the vehicle for your convenience.
There are almost 1,000 Estima hybrids for auction in Japan each month.
The easiest way to monitor auction vehicles in Japan – Set up FREE auction alerts to receive daily email updates.