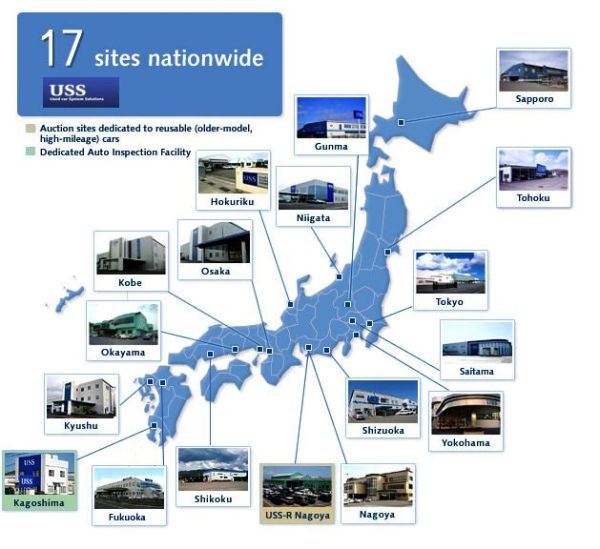 We are constantly asked two questions – what WILL and what DID a car sell for ?
Obviously we can't predict the Japan auction sale price for cars that have not yet sold.
The best we can do is to guide you on general market price range for common models based on your requirements (year, model, condition, kms etc.).
We have also designed our Auctions page to provide access to the last 3 months of real sales data for all the large auctions across Japan – not easy to obtain anywhere else.
This allows you to research what to expect at the Japanese car auctions for any model of interest which is an important step in the decision making process:
availability

price

condition
Our system shows the raw Japan auction sale price where this was available from the auction itself.
Note that USS auction systems does not publish auction sale prices so be sure to select Non-USS only for Location.
 
USS stopped providing auction results at the end of 2016.  We believe this was at the request of dealers within Japan who are the main buyers of auction vehicles – they don't want the end user to know what they paid.
USS auctions represent about 50% of total Japanese car auction sales so their choice to withdraw sale prices does make it more challenging to research market pricing without auction member access.
Non-USS auctions still show sale prices and these can be readily used to find comparative examples for common models. Just bear in mind that these – generally smaller auctions and some in remote areas – are typically a little cheaper than the major USS-controlled auctions in main city areas.
Recent past sales are the best guide for what is likely to come up for auction in the near future, so it is worth spending some time on our Auctions page reviewing this information.
You can then determine the landed cost in your country using our Cost Calculator.
If you need help, simply use the Enquire Now button from the detailed auction information page to send us an enquiry for any vehicle.
When evaluating past auction results it is important to consider the following points.
Some vehicles "pass in" and don't sell, having not reached the reserve price, or they may not show a final price where this was not available to our system. So be sure when considering final prices that a vehicle is actually showing as "SOLD".
When searching for top quality vehicles suited for normal road use, we recommend looking at grade 4 and above only. Some of those will still not meet our condition standards so bear this in mind when viewing price data.
Basing calculations on the more expensive examples is a good starting point as these will usually represent vehicles in the best condition that you would want for yourself as a private buyer.
It is worth remembering that any individual or business importing vehicles for the purpose of resale will seldom (virtually never) target the same quality you would select for yourself from the wide range at auction.  Price will vary accordingly.
We source the best cars for private buyers and, like so many other things in life, you get what you pay for.