Allow $90K+ on road for a 1999 R34 GTR VSpec Bayside Blue of this quality at current exchange rates. Prices / demand for GTR's are still increasing weekly.

View more pics and details for this 1999 Nissan Skyline R34 GT-R VSpec in Bayside Blue with 115,321 km which was inspected for a client in November 2017.
Graded 4 B, it had been auctioned previously in 2010 with 88,200 km – so only 27,000 km traveled in the last 7 years.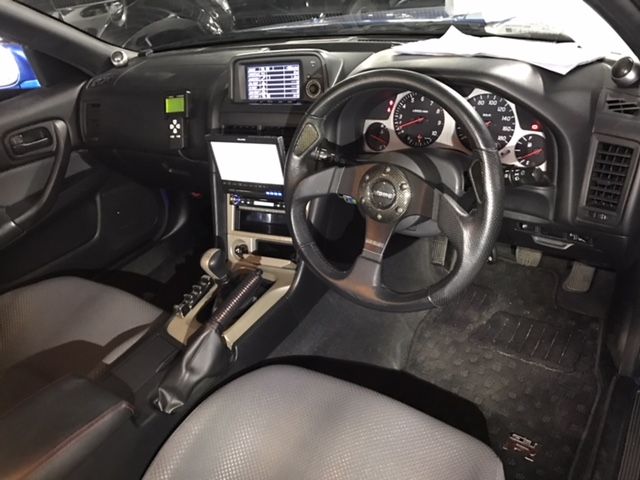 Aftermarket adjustable shocks / suspension, steering wheel and audio system fitted along with a couple of other minor performance modifications, otherwise original. Airbag light was blinking due to the a/m steering wheel.
 
The condition was excellent and clearly a well maintained vehicle driven carefully from the overall appearance.

The only minor faults were a couple of small scratches / pin dents on the body which were not noticeable, a scrape on the bottom of the front lip spoiler, a small chip on the windscreen, and some minor surface rust underneath.
Price withheld at client request.
Not in Australia ?  No problem, we can source this or another GTR (or any enthusiast vehicle that is eligible for import), and ship it to virtually anywhere in the world for you.
Simply contact us if you need assistance with any examples you find or to ask current price ranges for models you're interested in.
We specialise in sourcing the best Japanese cars and we take time to inspect them properly. If you want a genuine km, clean and original vehicle, we can find it for you.
You need to be ready and waiting for the right car though, some are not easy to find.
When it does come up, you need an agent that puts in the extra effort to thoroughly inspect it for all the usual faults and issues and provides a full set of pictures on auction day so you can decide what it's worth.
Rule #1: Don't EVER buy a car unless you've had someone you trust check it first.
Our Past Client Inspections page is filled with examples of vehicles we have inspected for clients including GTR's. You can browse actual pictures taken at auction and see the service we provide.
We only source the best vehicles with genuine kms. Read about our Genuine Mileage Promise.