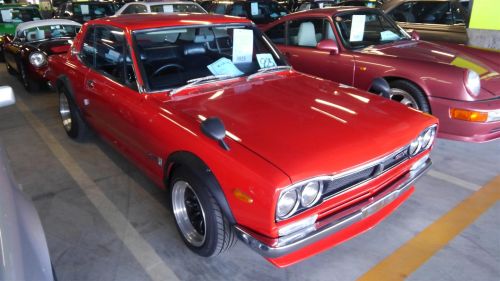 Considering buying a Japanese classic import car and looking to Japan itself for more choice, better condition or a lower price ?
Well, if you've not already heard, collector car prices have exploded in the last 6 to 12 months. 1970's models in particular such as Skylines, Sprinters, Crowns, Celicas and others have in some cases quadrupled in value in this time.
---
1971 Nissan Skyline KGC10 coupe GT-X


Other 70's Skylines
---
Not to mention GTR's like this 71,000 km 1994 R32 GTR non VSpec that sold for over $53,000 yesterday or this 338,000 km 2002 R34 GTR V Spec 2 NUR that sold for $130K+ once LCT is taken into account.

---
1982 Porsche 911SC coupe


Other classic Porsches
---
It seems the feeling worldwide is that unless you buy that classic you always wanted now, you'll not be able to in future.

---
1970 Toyota Crown MS51 Coupe


Other classic Crowns
---
If you're wondering what's still affordable, then take a look at Starions ($8K to $13K landed) and AE86 Levins / Sprinters ($10K to $23K landed) which for now appear to be receiving less attention and are still good value (Shhhh).

---
1987 Toyota Sprinter GT APEX Trueno


Other AE86's
---
They can't remain unaffected by the "collector car feeding frenzy" for long though, so be quick if you want one.

---
1972 Nissan Skyline KGC10 2000GT coupe GTR replica


Other 70's Skylines
---
We specialise in sourcing the best Japanese cars and love the classics !

---
1973 Toyota Sprinter Trueno TE27 coupe

---
Condition of these old cars is extremely variable. Despite looking shiny in the pictures they can be rusty and beyond saving, and at the other end of the spectrum something over 40 years old will occasionally come up in mint museum condition.

---
1970 Nissan Skyline KGC10 GT coupe


Other 70's Skylines
---
You need to be ready and waiting for the right car, some are not easy to find.

---
1978 Nissan Fairlady Z S31 coupe


Other FairladyZ's
---
When it does come up, you need an agent that puts in the extra effort to thoroughly inspect it for all the usual faults and issues and provides a full set of pictures on auction day so you can decide what it's worth.

---
1998 Rover Mini Cooper BSCC LTD

---
Rule #1: Don't EVER buy a car unless you've had someone you trust check it first.

---
---
This is even more critical for older cars.

---
1987 Mitsubishi Starion 2L turbo


Other Starions
---
Our Past Client Inspections page is filled with examples of vehicles we have inspected for clients. You can browse actual pictures taken at auction and see the service we provide.

---
1971 Nissan Skyline KGC10 GT Coupe


Other 70's Skylines
---
To research prices and availability you can use our online Japan Auction Search which shows cars coming up for auction as well as 3 months of past sale results. So you can quickly see what's been sold in that time and work out landed prices.
---
1971 Nissan Skyline KGC10 GT coupe


Other 70's Skylines
---
Simply contact us if you need assistance with any examples you find or to ask current price ranges for models you're interested in.
We only source the best vehicles with genuine kms. Read about our Genuine Mileage Promise here.