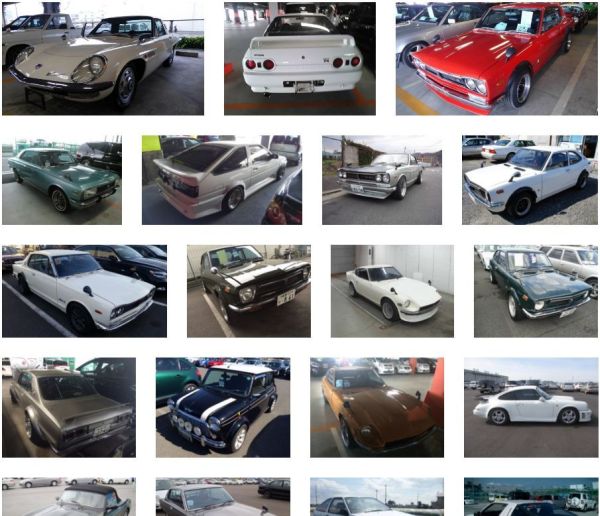 Classic Japanese cars have surged in popularity and consequently price in recent years, with a particular jump in prices over the last 12 to 18 months.
The condition of classic cars in Japan like anywhere else obviously varies widely from pristine museum condition to those requiring full restoration (or worse). And of course there are plenty of rusty wrecks popping up on Yahoo Japan and other online sources that are best not touched.
Whether you are after a 70's Hakosuka Skyline GC10, 80's Celica, BMW M3, RX-7, Skyline GT-R, Starion, TE27 or AE86 Sprinter, Rover Mini, NSX, Fairlady 240Z, Crown or many other collector models, we can source any Japanese classic you have in mind providing it is eligible for import.
Restoration work done in Japan can be very good but in general terms is not to the same level of detail as would be expected in Australia, particularly in the areas of rust repair and painting. Some can be done as a home project over a number of years and others by professional restoration companies.
It's always critical to have someone who knows about restoring old cars run a close eye over them and provide you with enough pictures and information prior to purchase so you can get a good idea of what you're up for when your classic arrives.
The following 1971 Nissan Skyline KGC10 GT Coupe is a good example of a car that looked good in auction pictures but was quite a different story when we got up close.

We recommend sourcing cars which require minimal work, as donor panels and original replacement parts are now difficult (and expensive) to obtain.
Where to Source Classic Japanese Cars ?
We source classic cars from either Japanese Dealers or directly from auction. The prices for Dealer cars tend to be a lot higher than auction but generally more background information will be available and the cars are ready to buy at a set price. Auction can achieve much better prices but there is some time and effort required in waiting for the right vehicle.
There is still a good selection of Japanese classics coming through the large car auctions across Japan.  To see what has been available for any model over the last 3 months and typical prices you can use the Past auction date on our Japanese Car Auction page.
Simply change the auction date to Today or Tomorrow to view upcoming vehicles. To make it even easier, you can free trial our auction alert email system, this will send all matching cars of interest to you daily.
In addition to auction, due to the increased demand for Japanese classic cars we have started to focus more on selected dealers that specialise in the classics.
Listed below are links to sites for dealers that sell top-quality classic vehicles and some that specialise in GT-R's. We consider the first one, Rocky Auto, as the best choice in the whole of Japan for classic Japanese cars.
Our contacts have bought from these dealers in the past and can vouch for the quality of vehicles, but in saying that we are not talking auction prices either, as these are generally only the very best examples.
If you find a vehicle of interest please email through the link, we can work out an approximate total price for you if the dealer sale price is displayed, or contact the dealer to find out the price for you.
Please note that communicating with Japanese dealers generally takes more time, effort, patience and cost than buying from auction.
Our Past Client Inspections page is filled with examples of vehicles we have inspected for clients. You can browse actual pictures taken at auction and see the service we provide.
We only source the best vehicles with genuine kms. Read about our Genuine Mileage Promise.