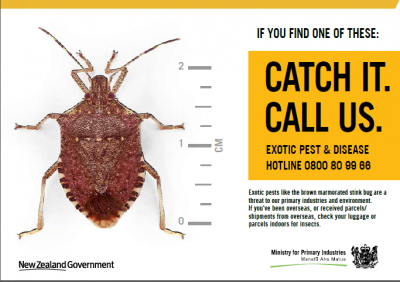 Based on the scare in Feb 2018 with Brown Marmorated Stink Bugs (BMSB) found in some shipments of used vehicles from Japan, there will be additional quarantine measures put in place for vehicle shipments from the 1 September 2018 to 30 of April 2019.

Australian bio-security will also have heightened surveillance for Roll on Roll off vessels bound for Australia.
This means all vessels departing Japan after the 31 August 2018 will be checked by Australian Quarantine before they are allowed to discharge any cargo.
If BMSB is found on board they will require the entire vessel to be fumigated, resulting in clearance delays.
New Zealand's Ministry for Primary industries (MPI) has also mandated that all used vehicles are heat treated prior to departure, certified and labelled prior to loading – this will add to the cost of shipping.
If live stink bugs are found on arrival in NZ, the vessels will be turned away.
The heat treatment facilities in Japan are expected to be unable to cope with increased volume which will cause some delays and increased cost to importers.
Currently there are several heat treatment facilities under construction / pending approval to meet demand.
The BMSB is a pest that could destroy New Zealand's fruit and vegetable industries, including the lucrative kiwi fruit industry. It also infests homes, ruins gardens (and of course – stinks when crushe
d…). Diabolical.