Be quick to express interest for this modified 1985 Toyota Sprinter Treuno AE86 GT APEX – clearly loved by its previous owner who has spent much more on the car than the current asking price.

The long list of quality modifications (below) includes many new and brand name parts, and a full engine overhaul only 6 months ago. It has also been test driven and drives great.

This AE86 GT APEX is available and ready for immediate export from Japan.
Approx. landed price for most Australian States would be $19,300, on top of which you should allow for minor compliance items (approx. $1,000) and stamp duty / registration in your State. We can recommend a workshop to assist you as required.
Auction report and 160+ pictures are available for serious buyers.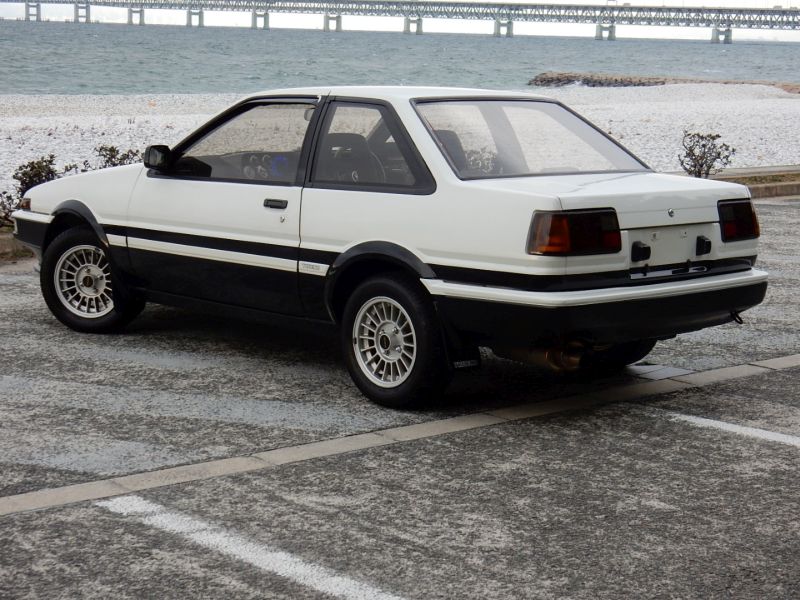 FULL SPECIFICATIONS
1985 Toyota Sprinter Treuno AE86 GT APEX 2 door coupe
234,000 kms
Engine
October 2016 Engine full overhaul
AE86 Block and head
Factory crank
Factory con rods lightened
AE92 Pistons
TRD 0.8MM Metal head gasket
AE92 Oil pump assembly with new 1.2mm Spacer
New piston rings
New bearings Big end and main
New genuine water pump
Low temp thermostat
AE92 Oil pan and strainer with aftermarket baffles
HKS Cams Inlet 256 Exhaust 264 8.3mm lift
TRD valve springs
Slide cam pulleys on inlet and exhaust
Nobby booth cam cover
Pistons and conrods are matched set
Block has been crack tested
Head skimmed and crack tested
Valves have been re-seated
Cylinder head is ported
Fuel system
Webber carburetors 45 DCOE9 fully overhauled
Garage carry back Power pump jets Type H (New)
45mm Curl funnels
Carbon induction box
Bosch fuel filter
OER fuel pressure regulator
YSS AE92 Short intake manifold
Ignition System
4K Distributor pick up
MSD Blaster high vibration coil
Split fire plug cords
Exhaust
Fujitsubo 4-2-1 Steel manifold
SARD metal catalyser
REED Japan one off muffler
Other Mechanicals
Nobby booth alternator
Nobby booth AE92 starter motor
YSS Crank pulley
TODA racing flywheel
EXEDY metal clutch
Aftermarket radiator hood panel
Aftermarket 2 core radiator
NEW SAMCO radiator hoses
Radiator fan coupling has been overhauled
New heater hoses
New heater valve
TRUST thermo oil cooler
Aftermarket engine mount
Aftermarket gearbox mount
LATCH master cylinder (NEW)
SUN MESH clutch hose (NEW)
NEW clutch slave cylinder
NEW clutch fork and release bearing
NEW steering rack bushes
TRD quick shift
TRD shift knob
NEW shift joints
REAL aluminium under panel
Brakes
WILLWOOD front 4 pot callipers
260mm front rotors
Rear big rotors 260mm
Master less kit
Master cylinder is new
Aftermarket brake brackets
Rear callipers have been refurbished
Braded brake hose
Drivetrain
TRD 2 way LSD 4.3 final drive
Up-rated drive shafts 25MM
NEW prop shaft bearing
Factory gearbox
Suspension
TRD Street shocks
CUSCO pyro tension rods
Urethane bushes throughout
New rear upper arms
New front hubs
Pyro lateral rods
Normal springs
Factory option Intra alloy wheels 14X6J inset 21mm
Michelin 195/60-14 Tyres
Gauges
PLX up rated temp sensors
AUTOMETER Fuel pressure gauge with LED warning lights
AUTO GAUGES Tacho (NEW)
Billion VFC eLM oil temp gauge with sensors before and after the oil cooler
DEFI BF Oil temp, Water temp and Oil pressure gauges
Factory meter with LED bulbs
Exterior
Front lip spoiler removed
FPR bonnet
Carbon visors
Interior
Carbon meter hood panel
WORKS BELL quick release boss
Nardi classic steering wheel (NEW)
Carrozeria SSD navigation
New light switch
New floor mats
Carbon step panels
Condition Notes:  Airconditioning system has been removed. Auction report notes that the core support has been repaired, and the left front inside panel and rear panel show "wrinkles" from a past repair. But these areas all look fine on inspection. Test driven, drives great with no apparent issues whatsoever. Good solid body with minimal rust. Close up pictures of all minor faults will be provided for serious buyers together with the auction report. This vehicle has basically been rebuilt mechanically and the pictures show what good condition it is in for its age.