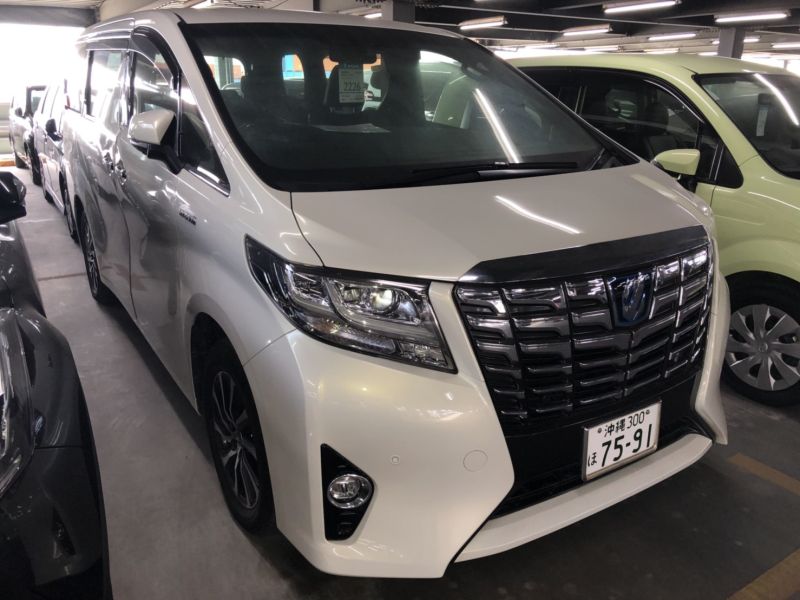 Well, there was a little more to it than that (but not much).
We inspected this 2016 Toyota Alphard HYBRID Executive Lounge 4WD 2.5L people mover with 26,777 kms and JBL sound system at auction in Japan, in July 2018.
Luxury features included radar cruise control with collision prevention, full cameras, dual powerslide doors, power tailgate, leather reclining seats with footrests and tray tables, and top of the range JBL sound system (factory optional).
First time up for auction. Dealer trade-in, from the Okinawa region.
This is an interesting example for a number of reasons, and shows what can be achieved on price every now and again when several factors combine.
Overall condition was good but the cosmetic issues graded the vehicle down to a 4 B C.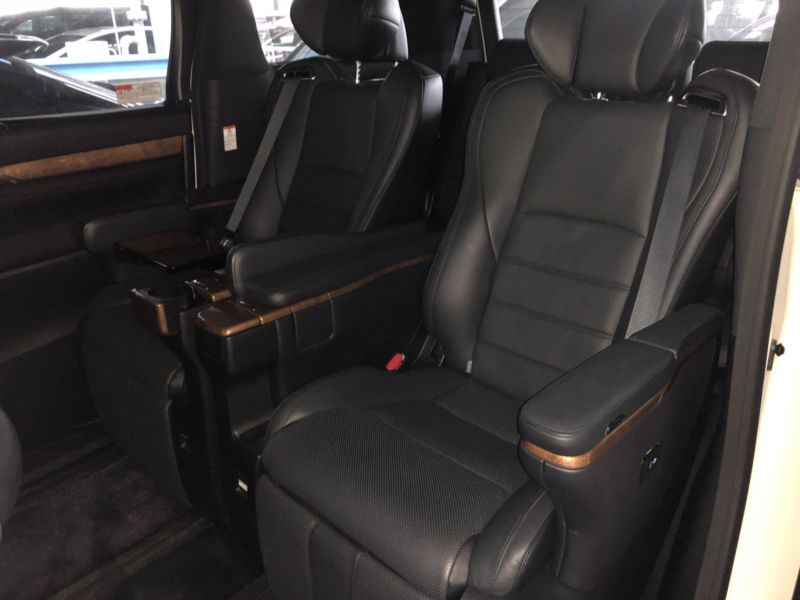 There was some minor surface rust underneath mainly affecting the exhaust and really of no consequence for a secondhand car.

A few scrapes and dirty marks on interior trims and seats would mostly wipe off.
 
It hadn't been cleaned inside or washed prior to auction, and still had small items from the previous owner including some magazines, a tissue box, and even an empty plastic bottle.

This would usually indicate the dealer selling the vehicle has a low expectation on sale price, since they have not even bothered to clean the car after the owner traded it in !
For the buyer, that means the reserve price is likely to be lower than normal which could indicate the opportunity for a bargain.
The engine was running perfectly and this vehicle would have looked near new with a 4 hour professional detail inside and out.
It was auctioned at TAA Yokohama which is quite strict on the grading system as they mention every small thing which other auctions gloss over.
It is important to understand this about TAA (Toyota Auto Auctions) as this can result in an auction report with more negative comments, but in reality they are all small issues of no major concern.
This tends to lead to lower prices at TAA than some of the other major auctions in Japan, while the condition may actually be identical.
Had this vehicle been cleaned and professionally detailed prior to auction, it would easily have been graded 4.5 B at any of the major auctions, and possibly even higher.
Had that been the case, then the likely market value at the time would have been around the 4.95 million Yen FOB mark or approx. $72,400 complied, plus tyres and ORC's (at 81.7 Yen to the dollar).
It is important to mention also that the sunroof option on these models usually affects the price by roughly 100,000 to 150,000 Yen. This car did not have sunroof, which has been factored in to the above price estimate.
This 2016 Toyota Alphard HYBRID Executive Lounge 4WD 2.5L people mover ended up selling for 4,293,000 Yen FOB or approx. $63,600 complied in Australia, plus tyres and on road costs (calculated at 81.7 Yen to the dollar).
So we believe the grading and cosmetic issues – plus the fact it sold through at a smaller auction on a Saturday – resulted in about 650,000 Yen or what would have been a $9,000 saving on the total price.
These things can be good to look out for if you're the kind of buyer that doesn't mind and would prefer to save some money.
Of course, if you prefer to buy a grade 5 A vehicle with under 5,000 kms or even new with 0 kms, we can source that for you too at whatever the prevailing market price is in Japan.
Further sale price data and examples are available for any model, so simply get in touch if you'd like more information on current pricing.
Want daily Toyota Alphard Hybrid auction alerts directly to your email ?