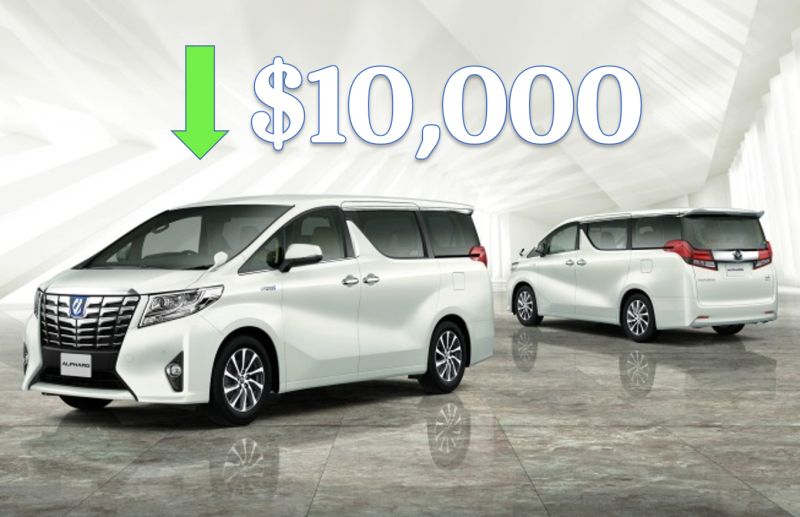 The removal of import duty from Jan 2018 together with a strong exchange rate has reduced the price of these amazing vehicles by about $3K on a $50,000 complied vehicle and over $10K on a $100,000 complied vehicle compared to 2017.
Being classified as a fuel efficient vehicle, the threshhold at which luxury car tax (LCT) applies is set at $75,526 (compared to $65,094 for standard vehicles), so LCT DOES NOT APPLY to most Alphard and Vellfire hybrids.
Importing your own Alphard or Vellfire is by far the best option to source a quality example at the lowest price – not only can you personally select the nicest examples from across Japan but there are considerable savings compared to local prices – tens of thousands of dollars in some cases.
For most buyers wanting a high spec 2016 / 2017 Alphard SR C Package or the equivalent Vellfire ZR G Package with < 10,000 kms in as new condition, that means a complied price between $60,000 and $65,000 (plus standard on road costs).


For those who don't mind a 2015 model or higher kms, the same spec can be imported for between $50,000 to $60,000 complied, with lower spec X and G models ranging from about $40,000 complied.



With even the low spec models very well appointed with top build quality and kicking the pants off the local competition, that's a lot of car for your money.
Popular features on Alphard and Vellfire models are powerslide doors, power tailgate, cruise control, parking sonar and sunroof.
The Executive Lounge model (top spec in the standard model line-up) currently ranges from about $65,000 to $85,000 complied depending on year, kms and option level.



The Toyota Alphard Royal Lounge is a special model above the Executive Lounge – a "Super Luxury" vehicle targeted towards VIP's such as Presidents, politicians and executives, it is designed to be chauffeur-driven with the focus on providing space and comfort for the two rear passengers.
The leather seats feature power recline with a fold-out ottoman and polished wood trim with a design similar to the seating in a first class airline.
The Royal Lounge retails from Toyota Japan for over 14 million Yen (over $200K complied) which is about double the price of the Executive Lounge but can currently be bought from auction in as new condition for between $150,000 and $175,000 complied, with prices reducing over time.

We inspect and photograph vehicles of interest in person and discuss with you in detail prior to purchase. View Past Client Inspections to see real examples of the service we provide on auction day.
Simply contact us if you need assistance with any examples you find or to ask current price ranges for models you're interested in.
We specialise in sourcing the best Japanese cars and we take time to inspect them properly. If you want a genuine km, clean and original vehicle, we can find it for you.
You need to be ready and waiting for the right car though, some are not easy to find.
When it does come up, you need an agent that puts in the extra effort to thoroughly inspect it for all the usual faults and issues and provides a full set of pictures on auction day so you can decide what it's worth.
Rule #1: Don't EVER buy a car unless you've had someone you trust check it first.
Our Past Client Inspections page is filled with examples of vehicles we have inspected for clients including GTR's. You can browse actual pictures taken at auction and see the service we provide.
We only source the best vehicles with genuine kms. Read about our Genuine Mileage Promise.