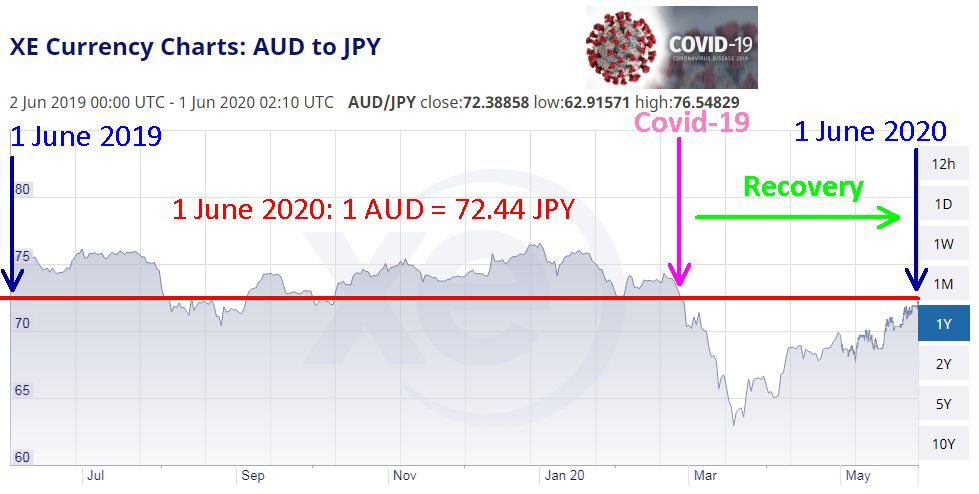 Between June 2019 to February 2020 the Aussie dollar ranged in value between 70 to 75 Yen.
As fears of the Covid-19 pandemic reverberated around the world there was a rapid decline in the exchange rate, with the AUD plummeting from 74 to 63 JPY (almost 15%) between 24 February and 19 March 2020.
However, thanks to quick action by the Australian Govt. to control the spread of the virus and many businesses starting to get back to normal now lockdowns are being lifted, it looks like our economy will be one of the first to pull itself back on track.
As a result the AUD has been steadily strengthening and is now back to pre-pandemic levels, sitting at 72.44 Yen to the dollar at the time of this post.
Prices in Japan for many vehicles have been affected by the pandemic thanks to fewer buyers and lower exchange rates to the Japanese Yen for many countries.
For Australian buyers this means cheaper prices for many models and a great buying opportunity.
It is too early to say whether this is a temporary or permanent reduction. Prices could rebound partially or fully once buyers from around the world start returning to the market.
There have been a range of impacts to the Japanese car market since February 2020, in summary:
– Mainstream vehicles such as the Nissan Leaf, Nissan Note, Toyota Estima, Nissan Elgrand, Nissan Serena and so many other new and common models are now around 15% cheaper (and more in some cases) than they were just 8 weeks ago. This presents a fantastic buying opportunity as some of these cars are suddenly $5,000+ cheaper for Aust buyers than they were 6 months ago.
– Rare collector vehicles are for the most part holding their price.
If you want a high km RX-7 or GTR and you're flexible on all specs and condition, then there is the occasional bargain around if you work hard to find it (particularly for high km), but if you want a low km example in pristine condition it's going to cost you about the same as it did before. There are just too many buyers in the world for the small number of really exceptional collector vehicles.
– There is less fresh stock coming through auction and many cars are passing in (unsold) again and again, nearly all of them with zero bids (which is virtually unheard of).
This means if you're looking for a GTR, RX-7, Supra, NSX etc. you will notice about 90% of the same cars being auctioned every week and it will take quite some time to watch and wait for new entries which represent the best buying opportunity for quality and price.
We need to keep track of the VIN's to spot the new entries, and carefully background check cars of interest.
For the most part, those cars passing in were bought pre-pandemic by dealers trying to make a quick profit and are now stuck with them until prices recover, or the condition of the cars simply doesn't match the start or reserve price the seller has on them.
As with all market corrections, this situation won't last forever.
Demand for enthusiast cars will remain strong into the future, so prices will rebound in time and the bargains available right now will soon seem a distant memory, never to be repeated.
There are some serious bargains to be had in certain market segments.
Simply give us a call or get in touch via email to discuss what you're looking for, and for current market pricing for any model.