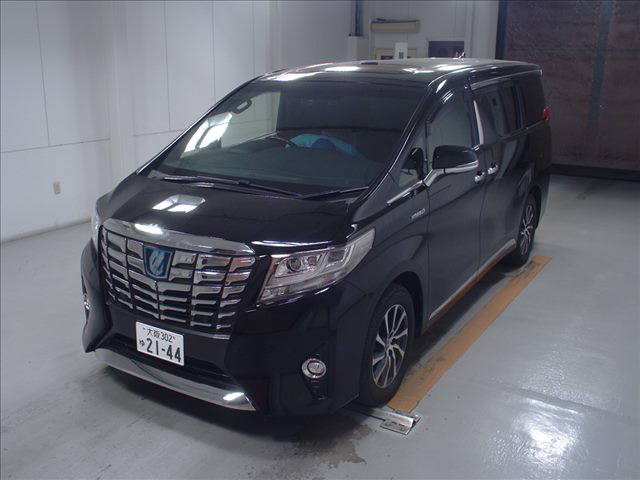 2015 Toyota Alphard Executive Lounge HYBRID (top spec).

81,334 km but still graded 4 B A – clean other than some pin dents and scratches on the body.

Auctioned in Japan last Saturday – passed in (reserve price not met).
Most likely back for auction this Saturday 17 June. Based on the last bid, around $78K to $80K fully on road in Aust. should buy it.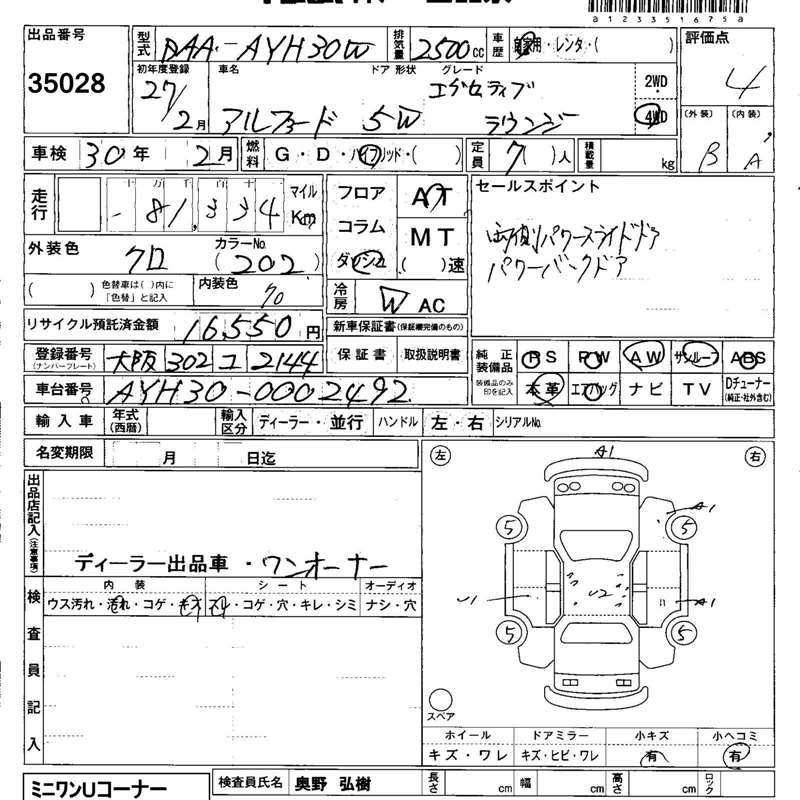 2011 – 2014 (20 Series) & 2015 – 2017 (30 Series) Alphard and Vellfire HYBRIDS are available at auction in Japan every week, many in as new condition with less than 20,000 km.
Depending on your budget, we can source any spec and kms you want, including NEW from Toyota Japan.
Set up a free email auction alerts trial to be notified of all Alphard or Vellfire Hybrids coming up for auction in Japan.
Every vehicle we source for our clients is carefully checked in person to ensure top condition prior to purchase. Auction reports are fully translated and pictures provided of any faults and aftermarket parts.
Depending on specification level, the price range at the moment for near new 2015+ 30 Series Alphard and Vellfire Hybrids imported to Australia is from $55,000 to $110,000, plus tyres and on road costs in your State.
We can source anything you want directly from Japan at cost direct prices.
More pictures are provided prior to auction for each vehicle of interest, with any faults shown so you can clearly see the condition before we discuss whether to bid, and your budget.
It is vital when sourcing your vehicle to use an agent that takes the time to physically check each vehicle and looks beyond the auction pictures and report to confirm condition. Some vehicles may have an unpleasant smoke or other odour, rust underneath, or other faults which are impossible to know without inspection.
Simply contact us if you need assistance with any examples you find or to ask current price ranges for models you're interested in.
We specialise in sourcing the best Japanese cars and we take time to inspect them properly. If you want a genuine km, clean and original vehicle, we can find it for you, including at dealers across Japan.
You need to be ready and waiting for the right car though, some are not easy to find.
When it does come up, you need an agent that puts in the extra effort to thoroughly inspect it for all the usual faults and issues and provides a full set of pictures on auction day so you can decide what it's worth.
Rule #1: Don't EVER buy a car unless you've had someone you trust check it first.
Our Past Client Inspections page is filled with examples of vehicles we have inspected for clients including classic cars in Japan. You can browse actual pictures and see the service we provide.
We only source the best vehicles with genuine kms. Read about our Genuine Mileage Promise.