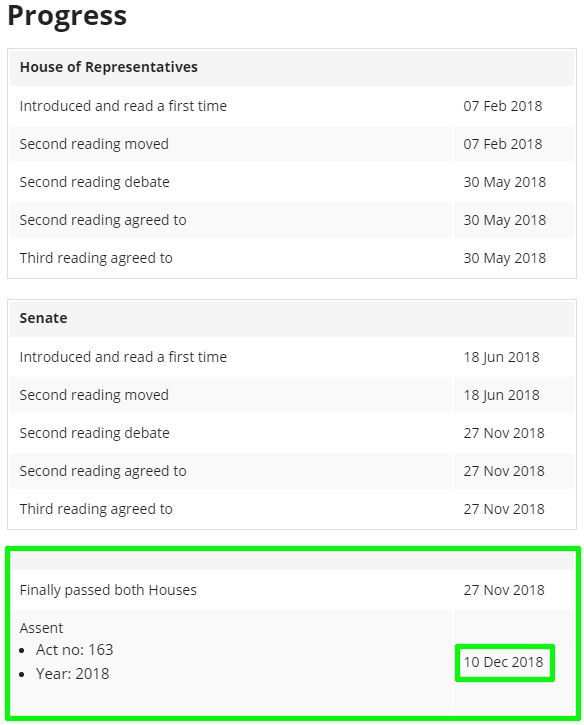 OK, the date is set.
The Road Vehicle Standards Bill 2018 received Royal Assent on 10 Dec 2018.
There is now a 12 month transition period to allow businesses to adjust and new management structures to be put in place.
This Bill forms the skeleton of the new laws.
The important detail on actual operation will be in the Regulations which have not yet been released.
We will update again once this happens – could be this year or early next year.
What happens next ?
There is a 12 month period before the important parts of the new regulations will apply.
A completely new SEVS eligible model list will need to be created before Dec 2019.
So we expect it will soon become possible to start applying for models to be reviewed and approved.
The cost and application process should be available once the regulations are publicly released.
The old scheme will be phased out over the next 2 years.

QUICK SUMMARY
Once the new regulations are released by the Govt. we will provide a full update explaining how the import scheme will operate in the future.
Here is a quick summary of the main points:
25 Year Rule will allow the import of classic and enthusiast vehicles over 25 years old
Vehicle models younger than 25 years and originally sold new in Aust will still be blocked for import BUT different "variants" will be allowed – e.g. hybrid, turbocharged, 4WD etc.
Many new hybrid, electric and kei cars will be available – any model not sold new in Aust that meets the environmental criteria
Change from 18 month –> 3 month gap for release to world market means that early R35 GTR's will be eligible for import
Rare LHD vehicles won't require conversion
New inspection system should ensure higher quality standards
Sign up to our Mailing List to receive ongoing updates.