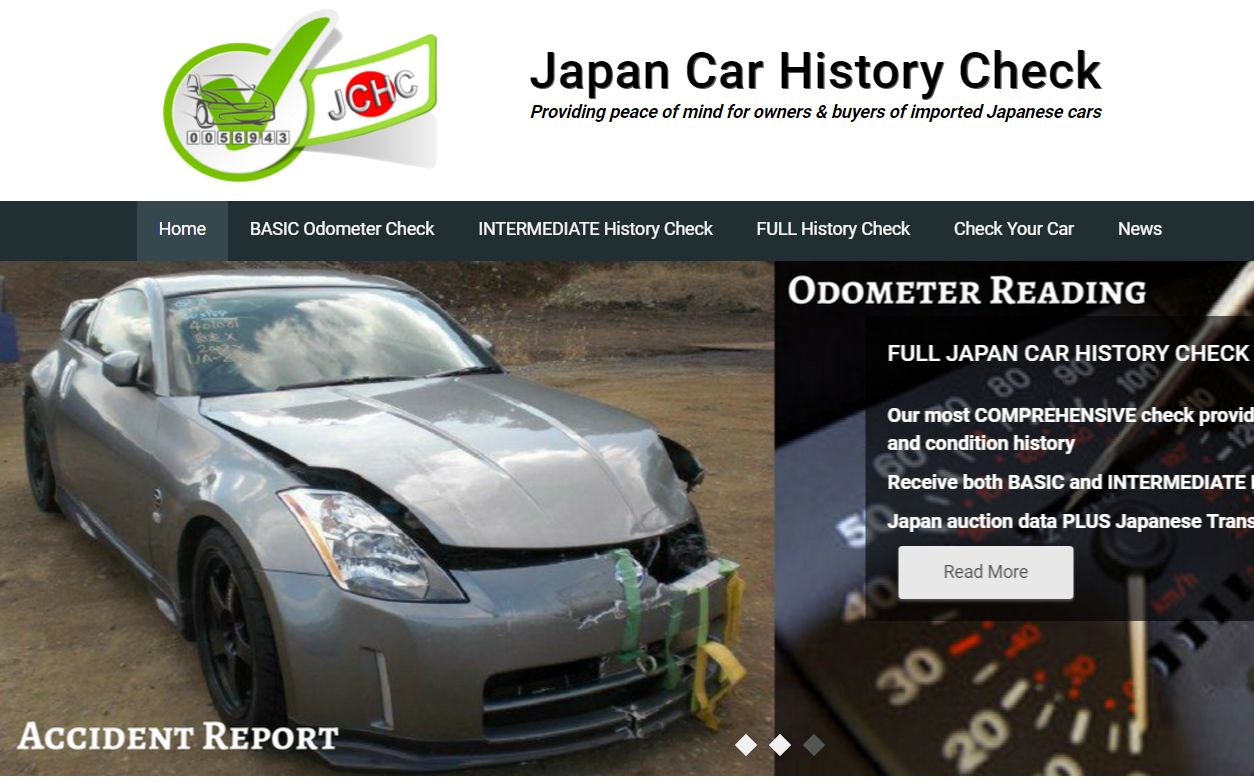 Want a comprehensive Japanese odometer check for your imported Japanese car or one you plan to buy ?
Or to find out what your car sold for in Japan ?
A service called Japan Car History Check provides Japanese auction records for most Japanese imports going as far back as 2007, including auction sold price in many cases.
So what will this information tell you ? It's actually very interesting…
Registration records from the Japanese Transport Authority include the odometer reading, date and location at the

last two

mandatory inspections in Japan (these occur 3 years from new then every 2 years), as well as any recorded accident and other interesting information like radiation testing and commercial use.
The full Japan registration history includes every registration transfer from new including date, reason, locality within Japan, plate number, owner name and address, and export date.
When combined with the Japanese Registration Certificate, this information provides a comprehensive picture of the number of past owners, transfer between dealers and private users, areas of use within Japan, first and last registration dates, export date from Japan and the company this was handled by.
There are a couple of other services around that will allow you to dig a little into the background of a Japanese car using the Export Certificate but Japan Car History Check is by far the most thorough Japanese odometer check service currently available for any Japanese import, with a faster turnaround time of only 1 to 3 days (depending on the check).
Export certificates only record the last two registration events which will only go back 5 years or so on average, and at most 7 years.
If your car is older than that then there is no way to know what happened to the odometer before that date from this document alone.  The Export Certificate can also be faked by a seller.
Having past km readings plus a very good idea of where the car was used in Japan from new until export is invaluable for both buyers and sellers. Did it live in a heavy snow area or a region affected by radiation such as Fukushima ?
Japanese auction records will show the km reading of the car and the date it was auctioned, plus pictures in most cases.
They can also reveal things like past repairs, rust, mechanical issues, aftermarket parts and general condition which the seller in your country may not have told you, or have been unaware of themselves.
The majority of cars exported from Japan were sold through auction, so odds are that auction records WILL be available for your car.
Prestige Motorsport strongly supports Japan Car History Check and all other services that protect the consumer by providing impartial background information and Japanese odometer check reports on imported vehicles.
It's sad to say but in many countries winding back odometers on imported Japanese cars is very common, even standard practice where not strictly monitored by the Govt.
Why ? Unscrupulous dealers and importers can buy high km and damaged cars much cheaper than genuine cars, allowing a much higher profit margin.
In 2004, Japan implemented a system of recording the last two Govt. registration inspections (kms and date) on the registration paperwork.
When the car is exported the original de-registration document showing those odometer readings is converted to an Export Certificate by Japanese Customs.
In Australia, estimates from industry sources indicate figures as high as 70-80% of all secondhand Japanese imports have had their kms adjusted and / or past accident repairs hidden from the end user.
This is a shocking figure so how can this happen ?  Simply really.  The Aust. Govt. does not require independent checking or recording of kms or condition of imported vehicles.
It is possible to do, they just don't require it.
To eliminate this problem in the future, we have suggested to the Govt. that a publicly accessible register including odometer and condition information be included as part of the planned import regulation changes in 2018.
Also that condition inspections at the time of import be undertaken by an independent body unrelated to the sale of the vehicle (not currently the case).
The other problem for Australia has been the difficulty of proving a vehicle was sold to you with false kms / condition. That is until recently… when some well-known Sydney car dealers found out the hard way.
What's the safest way to protect yourself from these practices ?
Easy. Source your own vehicle directly from Japan through a trusted agent that charges a fixed fee to inspect and buy cars from auction and provides you with all original paperwork including the Export Certificate.
Together with the independent auction report, you will then have certainty of genuine kms and condition as well as the best possible price.
For sellers concerned about proving the value of their vehicle to buyers, and for buyers who want to know as much as possible about the past condition and true odometer history of a local car they want to buy, we recommend checking out Japan Car History Check for their Japanese odometer check and Japan history check services.
We only source the best vehicles with genuine kms. Read about our Genuine Mileage Promise.