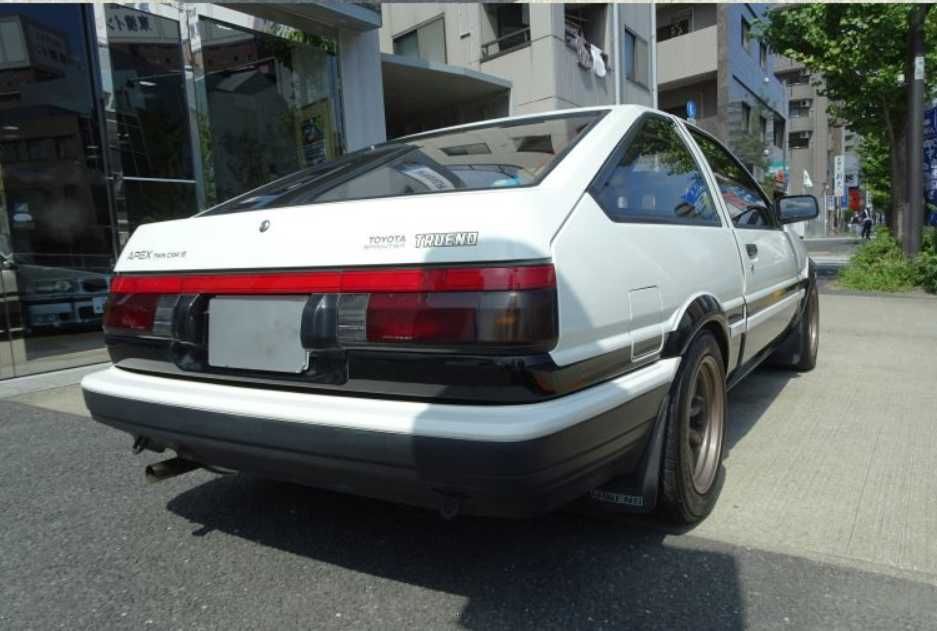 This classic 1986 AE86 Toyota Sprinter GT APEX 3 door coupe was inspected for a client at USS Tokyo auction this morning. It is the type of collector car we specialise in.
This model became famous in Japan and then the rest of the world thanks to being featured in the Initial D series of Japanese manga and anime, then in Gran Turismo and other car racing video games. See Toyota AE86 Wiki for more details.
This has led to increasing demand for the cleanest and most genuine examples, and therefore increasing prices which are discussed more here:
This example was in very nice and original condition other than some tasteful and minor modifications including:
Watanabe 14 inch alloy wheels
TRD sports bucket seats
Nardi steering wheel
Aftermarket suspension front and rear (springs)
LSD
Aftermarket muffler with catalytic convertor
TRD shift kit
Carbon-fibre / aluminum strut-tower bar
Aftermarket spark plug cables
Plus some TRD parts.
While it may not have been fully original, all the paint looked very good, and normal rust problem areas were all rust free. Just minor surface rust underneath which is expected for age.
Odometer was showing 66,993 km and while there was nothing obvious to suggest this was not genuine (given how clean it was overall), we always suggest the stated kms are to be used as a guide only on cars of this age and to judge each on how it presents on auction day.
This AE86 was eligible for import to Australia under the 1988 and older rule.
It sold for 2,430,000 Yen FOB which would have been approx. $38,000 landed in Australia at the time (at 76.5 Yen to the dollar), and is the highest price we have seen paid for an AE86 to date.