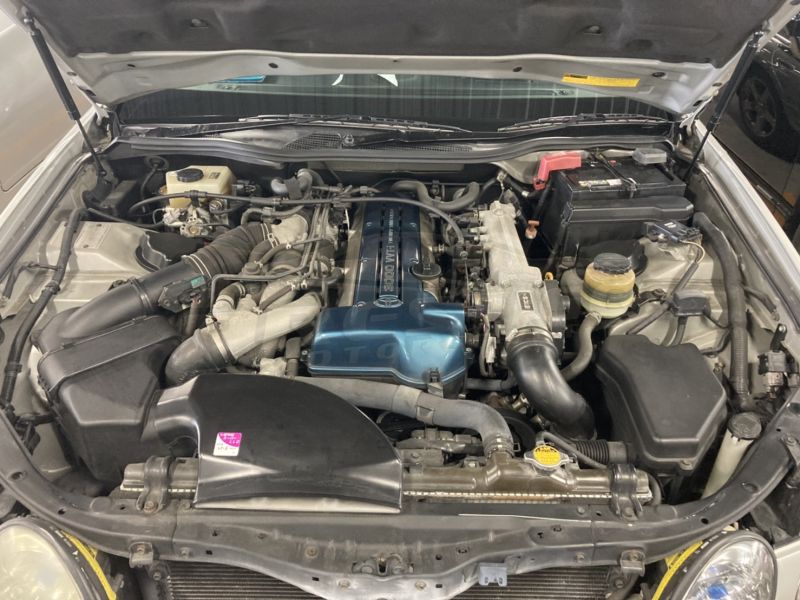 26 August 2020 UPDATE – Please note this vehicle has now been sold and is no longer available.
This May 2002 Toyota Aristo TT V300 Vertex Edition with 3L twin turbo has just arrived in stock with one of our agents in Japan. 
The Aristo JZS161 model has the same 1JZGTE twin turbo used in the Supra RZ TT so is a real sleeper, and with Supra prices now stratospheric is about the cheapest remaining option to import Toyota's famous 3L twin turbo engine.
But not for long… once Australia wakes up to the fact that this model can now be imported.
Keep the wife and kids happy with a super comfortable family sedan (with a beast of an engine lurking under the hood… shhh !).
All Aristo TT's were automatic, but the occasional 5 speed manual conversion pops through the auctions to reward the patient hunter.
This exceptionally clean one-owner automatic is very nice for age with just 50,119 km (< 3,000 km per year) – very difficult to find even in Japan. The hospital parking sticker on the car indicates a medical professional owned it from new – probably why it has been so well kept.
A new set of tyres will be needed, and the right front headlight needs to be cleaned / polished. Windscreen has a tiny pin chip of no concern. Underbody is immaculate and entirely rust free.


Auction grade 4.5 B, the report included these sales points:
One private owner. Factory navigation. Keyless entry. Front seat heater. Xenon headlights. Cruise control . 50,119 km.
Condition notes:
Stone chip on the windscreen. Minor dirt inside. Wrinkle on the seat. Scratches on the wheels / door mirrors. Small scratches / dents on the body.
The price is 1.1 million Yen or approx. $21,900 complied plus tyres and on road costs (@ 75 Yen to the dollar), which is an absolute steal for such a clean, low km example.