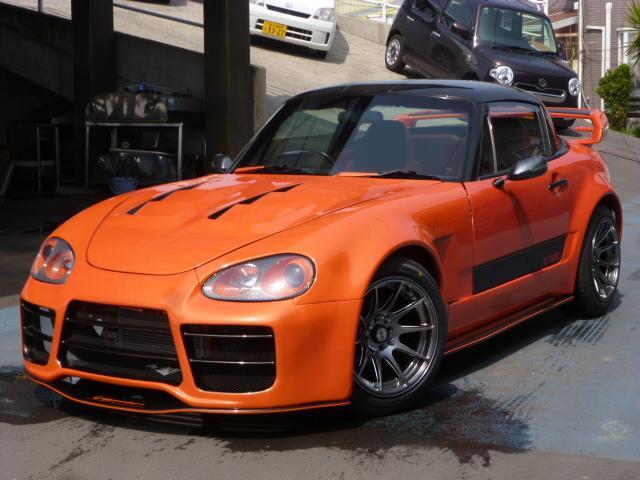 The Suzuki Cappuccino was a 660cc "kei car" produced in Japan from 1991 to 1997, which means it is now eligible for import to Australia (and the USA) under the 25 Year Rule.
The Cappuccino is now being rediscovered as a result, and prices are rising quickly along with all other nostalgic vehicles of this era.
Just over 28,000 Cappuccino's were made, mostly for the domestic Japanese market, with limited numbers exported as new cars to the UK and NZ.
Many have since been customised with aftermarket bodykits and engine modifications, but this is how they looked from factory:

The turbocharged 3 cylinder essentially motorcycle engine produced 63HP and redlined at between 9,000 and 12,000 RPM.
So it is not blisteringly quick but the light weight of around 700 kg, nimble handling and high revving turbo engine all combine with the sheer cuteness of the Cappuccino to make it incredibly fun to drive.
Suzuki also designed a unique set of removable aluminium roof panels and retractable rear glass window so you can choose targa, open top or full convertible.
Many of the other body panels are also made from aluminium for weight saving, and despite its tiny size the Cappuccino comes with all the good features of a modern car including all wheel disc brakes, sophisticated suspension, power windows and air conditioning.
Everything you need is there, just shrunk down in size !
From around 1994, ABS brakes, LSD and driver's airbag were factory optional.
Common performance upgrades include turbo kits from Monster Sport to increase power output to over 100HP, or around 200HP with complete swap to a Suzuki Hyabusa engine.
So why can't Suzuki 'reheat' the Cappuccino with a modern take on this still popular model ?
The car featured here is a custom build but shows how good a revised and more modern Cappuccino could look.
You would think it would be easy to give this lightweight car some serious caffeinated performance (and amazing fuel economy) with a modern hybrid electric or full electric 4WD drivetrain – the 2020 Macchiato ?
Come on Suzuki, live a little !
Yes, the orange car featured here is currently available for sale in Japan, and could be yours for the hefty price tag of around $50,000 thanks to the hundreds of hours spent on the build.
Other standard Cappuccinos can be landed from as little as $10,000 but they will generally need mechanical and bodywork at this low price point. Common issues include past repairs, rust and faded paint.
If you want one with partial to full restoration / modifications then you will need to allow $20,000 to $30,000 or so at the time of this post and this is generally a more cost effective option than doing your own custom rebuild.
Just note that like all Japanese cars of this era, good examples are becoming difficult to find and prices are rising fast.
Need more info on importing your own Cappuccino ? Contact us.