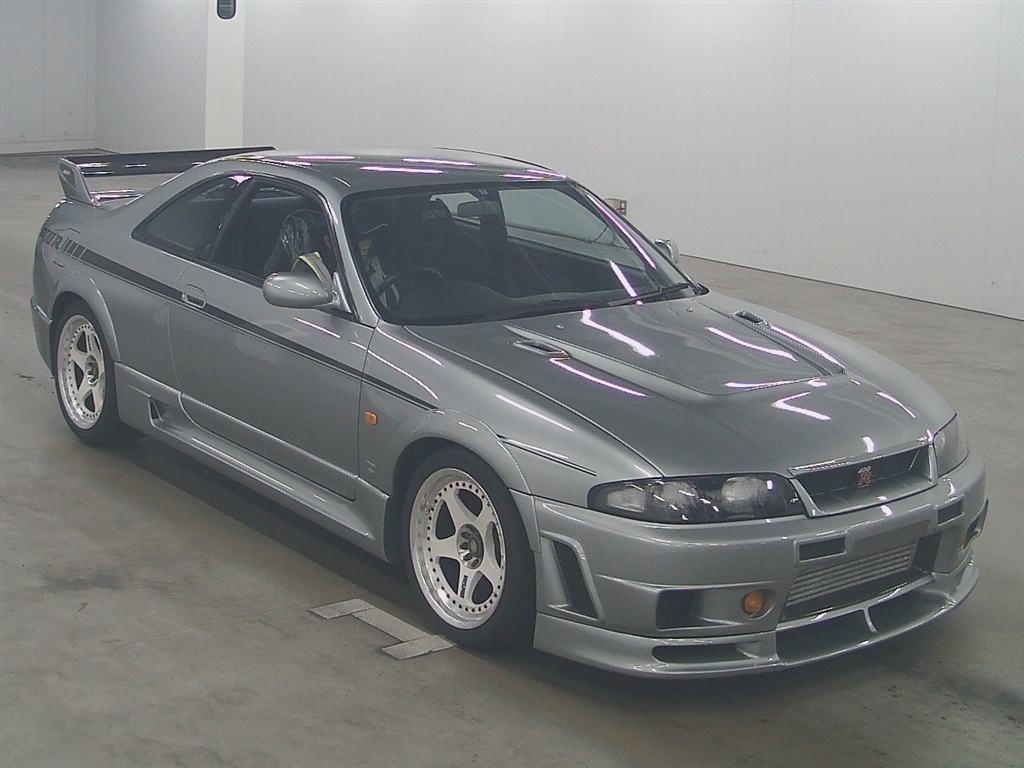 This Nissan Skyline R33 GTR NISMO 400R with 2.8L engine and only 13,000 km is up for auction at USS Nagoya auction on 9 Dec 2016.

According to Wikipedia, the special edition R33 Skyline GTR NISMO 400R was released on November 3, 1997, with R standing for Racing. Note that the auction has recorded this vehicle as a 1996, so clarification with Nissan Japan on the chassis code would be required. The auction report also mentions some other faults, which would of course need to be inspected in person on auction day with additional pictures to determine suitability for import.

Overall development and planning was by NISMO, but its bored and stroked RB26DETT engine, the RBX-GT2, was engineered and produced by REINIK. The engine featured 77.7 mm stroke crankshaft (73.7 mm stock), forged 87 mm pistons (86 mm cast stock), upgraded rods, polished ports, high lift camshafts, upgraded oil system, larger exhaust manifolds and higher output turbochargers.

NISMO produced an upgraded exhaust, a twin-plate clutch, and intercooler system. Nismo brake pads were fitted to the car. 400R exclusive aerodynamic updates were also added, such as wider fenders, side skirts, a new rear bumper, a new front bumper with bigger air scoops, and a redesigned bonnet and rear spoiler made of carbon fiber. The 400R was also fitted with 18×10 Nismo LM-GT1 alloy wheels.

The NISMO 400R developed 300 kW (400 hp) and 347 lb·ft (470 N·m), which allowed a top speed of over 186 mph (300 km/h), and enabled it to reach 0–97 km/h in 4.0 seconds. 370 kW (500 hp) would easily be achieved with a higher boost setting.
NISMO had originally planned to produce 100 units of the 400R, however only 44 units were made before production of the R33 ended in 1998.
What might this sell for ? Our guess would be $150K+ complied in Australia including a fair whack of luxury car tax. Start price alone is over $100K landed.
Not in Australia ?  No problem, we can source this or another GTR (or any vehicle that is eligible for import), and ship it to virtually anywhere in the world for you.
Read 2016 ~ End of an Era for Classic Japanese Cars for more information on why prices are increasing so rapidly on GTR's and other classic Japanese performance cars.
Simply contact us if you need assistance with any examples you find or to ask current price ranges for models you're interested in.
We specialise in sourcing the best Japanese cars and we take time to inspect them properly. If you want a genuine km, clean and original vehicle, we can find it for you.
You need to be ready and waiting for the right car though, some are not easy to find.
When it does come up, you need an agent that puts in the extra effort to thoroughly inspect it for all the usual faults and issues and provides a full set of pictures on auction day so you can decide what it's worth.
Rule #1: Don't EVER buy a car unless you've had someone you trust check it first.
Our Past Client Inspections page is filled with examples of vehicles we have inspected for clients including GTR's. You can browse actual pictures taken at auction and see the service we provide.
We only source the best vehicles with genuine kms. Read about our Genuine Mileage Promise.