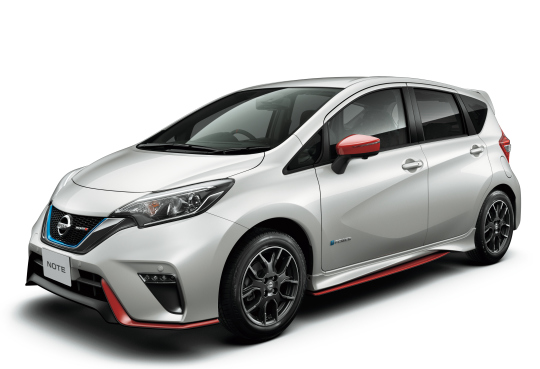 A range of factory options are available including the sporty NISMO version featured above.
The ePower petrol-electric hybrid technology is Nissan's transition stage towards fully electric vehicles (EV's).
The Note ePower is an EV that eliminates "range anxiety" as it has a real world theoretical range of around 1,300 km or 3.61 L / 100 km. Although the official fuel consumption figure (JC08) is just 2.9L / 100 km.
The petrol-electric hybrid system has no plug for recharging, and offers electric car performance and exceptional fuel economy without compromising long-distance driving.
The same ePower system is also used in the Nissan Serena people mover in Japan, which is another model recently eligible for import to Australia and destined to become very popular.
The Note ePower features the same one pedal "e-pedal" technology as the Nissan Leaf. There's instant torque available from the electric motor and its regenerative braking is easy to master.
The potential for long range driving together with excellent fuel efficiency should make this a very popular import for Australia in coming years.
Prices constantly change depend on year, spec and km – please contact us for a current quote.
Note that when using our Auctions page to browse past and future Nissan Note ePower's you will need to refine the search results using HE12 as the chassis code for the ePower model. The standard Nissan Note has E12 chassis code.
With over 800 Nissan Note ePower's per month to choose from at auction in Japan – including completely new vehicles – there is no shortage of choice for import.
Set up FREE auction alerts to receive daily email updates – the easiest way to monitor auction vehicles in Japan.