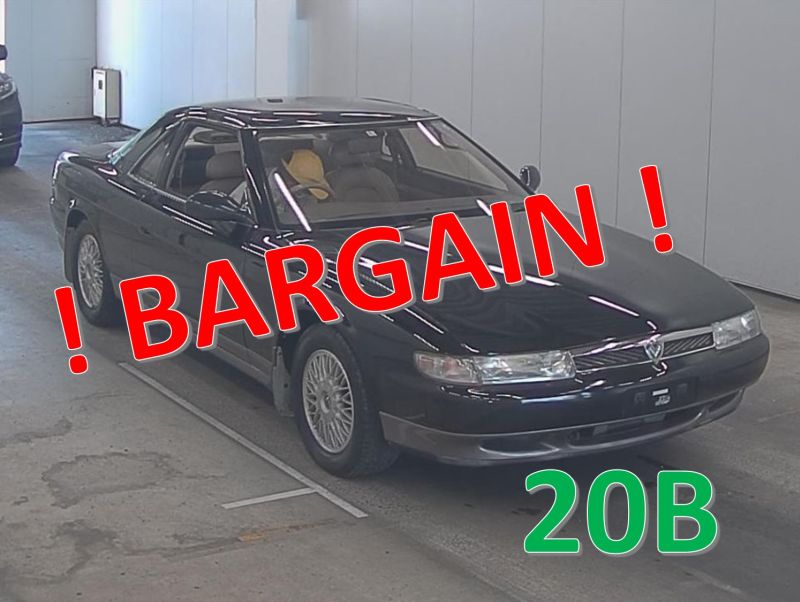 We keep being asked about what's going on at the Japan car auctions, are prices cheaper ? Is it a good time to buy ?
YES, overall it is a GREAT time to buy if you have cash available.
It is after all, about as strong as a buyer's market gets, and we've not seen a situation like this since the GFC 11 years ago – way before Japanese cars jumped in value.
So if you thought prices had gone past your budget and it was too late for your dream car, this could be your second chance.
This situation is clearly extreme and won't last forever.
Demand for enthusiast cars will remain strong into the future, so prices will rebound in time and the bargains available right now will soon seem a distant memory, never to be repeated.
2 years from now will you be telling your mates about the steal you bought in the middle of the pandemic, or the one that got away ?
Golden Week is coming !
With just a week and a half before the annual Golden Week holiday starts in Japan, and all the auctions set to close for a week at the end of April, it's the perfect time to snap up a bargain as sellers are under even more pressure to quit stock before the break.
We usually get some great buys at this time of year, but this time around it's like the perfect storm in the buyer's favour.
There are definitely some serious bargains to be had in certain market segments – if you're prepared to have a go.
Like this low km 1992 Mazda Cosmo 20B Type E that sold a year ago for 1.89 million Yen. Just 36,581 km and in original clean condition.
Last week it passed in at 930,000 Yen, and yesterday it came back to auction and some lucky punter snapped it up for just 1.255 million Yen (despite it being spread across Facebook all week long).
That would end up at approx. $26,500 complied in Aust at 68 Yen to the dollar.
Scroll down for more pictures.

This sort of price reduction is virtually unheard of, so you can be sure some sellers are hurting badly to take a hit like that. The situation faced by each seller will of course be different, so the only way to know what will happen on auction day is to try your luck.
Import pricing is being impacted unevenly depending on what you want to buy.
Here's a quick summary of what we are seeing play out in the Japanese car market in general terms.
True collector cars with low kms are still expensive. So if you want an R34 GT-R with genuine 20,000 km for example, then now is probably not the time to buy (if you care about the total cost).
The economic uncertainty due to the coronavirus forced the AUD to Yen exchange rate down (from 73 to 62 at around the worst point in recent weeks), but this has since recovered much of that loss to hover in the 68 / 69 Yen to the dollar range over the last few days.
So we are about 6% down on where the ex rate was before the crisis hit.
Low km collector cars above the 4 million Yen+ range (when luxury car tax kicks in) in most cases will remain hard to buy for Australian buyers until our exchange rate recovers to something like 72+ Yen to the dollar, unless auction prices drop 8 to 10% compared to 2 months ago.
Of course there will be exceptions and we can still have a go at them and might snap one cheap enough with some luck. There is certainly no harm in trying and we are still inspecting and bidding on these sorts of cars for clients every single week.
The longer this pressure continues on sellers, the more luck we are likely to have.
For regular daily drivers, let's say an RX-7, EVO or Alphard with around 100,000 km in the 1.5 to 2.5 million Yen range, there really isn't going to be a better time to buy than now, with prices noticeably down.
For RX-7's and Supras for example we are regularly seeing more than 80% passing in unsold – many with no bids at all which is simply unheard of.
At the same time though, we are seeing fewer "fresh" vehicles being sent to auction as those sellers with more ability to ride out the storm are choosing to hold on. So as always it takes patience waiting for the right car to come up.
The situation is even better for buyers of cheaper cars under 1.5 million Yen where the exchange rate has less of an impact, like a 2010 to 2012 hybrid Estima or Crown, E52 Elgrand, 2015 to 2017 Leaf, or 25 Year Old imports like the ST205 Celica GT-FOUR and so many others – it is an absolutely outstanding buying opportunity right now.
Of course, you're not going to buy something for half price now compared to 2 months ago, so for all those asking us that – no, it's a ridiculous question, please stop !
It is realistic to save perhaps 10 to 15% on the overall cost, which is a darn good saving.
Another factor behind the scenes is that many Japanese export agents have stopped attending auction as their dealer customers have paused buying through the lockdown – but our agents are still at auction inspecting vehicles for our clients.
This puts us in a great position to help you source the car you want.
There is also the chance that as the coronavrus spreads across Japan, extended lockdowns may shut down the car auctions and related services for a period of time.
So, buy now or wait ? 
Did you read the above post ?!  If you want a car, then what (the heck) are you waiting for – the auctions to close under lockdown, prices to go back up ?
Simply adjust your budget to suit the slightly lower ex rate, get in and try your luck.
There are bargains passing by every day, don't let this unique opportunity get away !
Simply give us a call or get in touch via email to discuss what you're looking for, and for current market pricing.
1992 Mazda Cosmo 20B Type E