This 1993 Suzuki Cappuccino 5 speed manual with 51,800 km was auctioned at USS Nagoya on 20 March 2020. Auction grade 4 B. VIN: EA11R-117470. Auction report noted as follows. Sales points: Individual owner (s) Aftermarket aero parts Black leather seats After market 14" alloy wheels Adjustable suspension After market SD navigation / air cleaner / blowoff valve Momo steering wheel Genuine mileage ...
March 20, 2020
/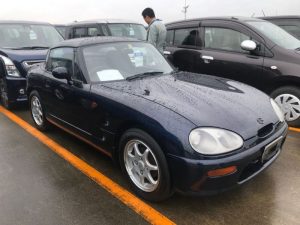 This 1994 Suzuki Cappuccino Limited model with 60,230 km was inspected for a client in October 2019. Auction grade 4 B. On inspection this vehicle presented in very clean and original condition for age. Non smoker. Some scratches and blemishes to the body as pictured. Auction report noted: Sales points: Special edition Genuine alloy wheels Rear spoiler Report: Stone chip on the windscreen Scratch...
October 31, 2019
/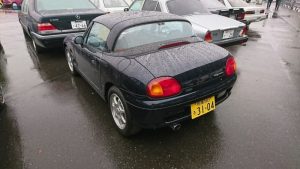 This extremely low km 1994 Suzuki Cappuccino LTD EA11R with just 9,641 km was inspected for a client at USS Tokyo auction on 28 February 2019. VIN: EA11R-121543. Timing belt replaced June 2016 at 6,717 km. Translated notes from the grade 4.5 auction report as follows: Sales Points:  Genuine mileage Comments: Timing belt, water pump, thermostat, tensioner, cam seal and other parts were replaced a...
February 28, 2019
/