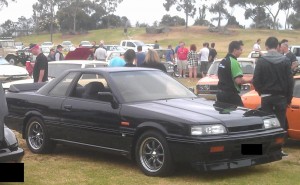 I have used your services twice over the last 5 years.
You helped me import a HR31 GTSX COUPE from JAPAN which has won several awards for most original import.
You also helped me import a very rare Skyline HR31 GTS-R COUPE.
The price on these have risen a fair bit since I bought mine.
I even hear that JAPAN are actually buying back some of their rare original skylines as they want to keep their heritage.
Anyway, The Skyline HR31 GTS-R will remain in my garage for ever.
The white HR31 GTS-X coupe however I plan to sell to help fund a budget American Muscle car. I have had offers of $12,000 for it which is not too bad considering it cost me 8 grand or so.
I have done a lot of the usual internet searching and received a lot of conflicting shipping quotes from different car dealers in the States.
At the end of the day I keep coming back to you as you were fantastic during the import of my 2 skylines. I trust your knowledge and would happily use your services again to find me a muscle car.