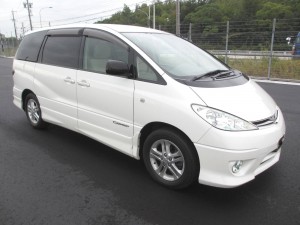 I just received my imported family Van (Toyota Estima 3L G Premium edition).
Prestige Motorsport came recommended to me from two (independent) colleagues at work.
I won't hesitate to say that Geoff gave me the very best customer service I have ever experienced.
Geoff is obviously very used to dealing with people who have endless lists of questions, and he does a brilliant job at addressing each and every one of these in a timely manner, (all with a great deal of patience). For what you would consider to be a very nervous experience (first time buying a car that you've never seen in another country) all the processes are pre-documented, clear to follow and work out exactly how they were described.
Prestige Motorsport have obviously dealt with all the caveats you would expect in this type of purchase, and so the resulting experience for me was very simple and smooth.
I took my time finding the right car too for our family, and I never felt pressured to hurry it along.
So… so far so good. The estimated final prices were accurate. The car is immaculate, even the compliance shop commented on what a great example it was and that Geoff had done very well. The after sales support has also been appreciated.
Thanks Geoff, you have my highest recommendation! I would not hesitate using your services again.