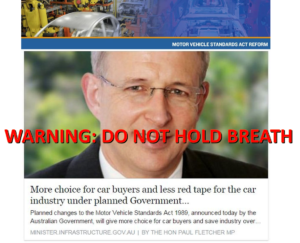 Latest Update December 2017 ~ 2019 Vehicle Import Regulation Changes – Draft Legislation Announced When first announced in Feb 2016 the proposed import regulation reforms sounded very positive — not only for motoring enthusiasts but for all Australians. AND a long time coming. The Need for Import Regulation Reforms The current import regulations are restrictive to trade and lead to much hi...
July 29, 2017
/
Australian Compliance, General News, Import Regulations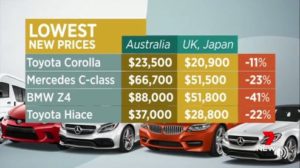 7News: Many car buyers wanting to purchase imports claim Australians are being ripped off, with vehicles far cheaper overseas. Typical differences in new car prices can be seen from the comparison of four popular models above. Watch the full 7News report: It's now been 9 months since the Govt.'s last official update on the proposed vehicle import regulation changes. More reading: Lar...
July 26, 2017
/
General News, Import Regulations
Numerous pages have been popping up on Facebook and Instagram in the last 12 months claiming they are busy preparing to source new cars come 2018, posting up pictures of high end cars and promising huge savings. As far as we can tell, these "businesses" don't actually exist other than on social media, so (as always) be wary of scams and very careful to check who you are actually ...
March 30, 2017
/
General News, Import Regulations