Nissan Cube Z12 Model Information and Specifications
THIS PAGE IS FOR GENERAL INFORMATION ONLY – please note due to import regulation changes Nissan Cube is no longer allowed for import to Australia
There are now many newer small car import options for Australia which are better value including hybrids. Check vehicle import options for Australia.
The third generation Nissan Cube is known as the Z12 and made its debut at the Los Angeles International Auto Show in November 2008.
The Z12 Cube went on sale in Japan on November 19, 2008 and the United States on May 5, 2009.
All 2008 and onwards Nissan Cube Z12 models can be imported from Japan, including 2WD (Z12) and 4WD (NZ12).
Australian compliance is now available so we can source any Z12 you like directly from Japan at the best prices.
After being popular in Japan for many years, the Z12 was the first Cube model to be exported by Nissan outside the Japanese market and was sold in Europe and North America.
Compared to the earlier Z11 Nissan Cube, the updated Nissan Cube Z12 has more rounded and curved styling in the rear bumper area, as well as in the asymmetrical rear window (which wraps around to the passenger side), and in the driver and front passenger windows.

The tailgate is side-hinged to swing open like a door, rather than upward like a hatch. The hatch hinge is on the right side for countries with left-hand traffic such as Japan and the UK and on the left side for right-hand traffic markets such as North America.
While the Z11 Nissan Cube was offered in 5 seater (Cube) or 7 seater (Cube Cubic / Cube3), the Z12 Nissan Cube was only offered with 5 seats.
Distinctive interior design styling includes a water ripple motif that appears in the roof lining (for models without sunroof) and is repeated in details like the speaker covers and cup holders.
Nissan's marketing department has heavily promoted the Cube as an ECO friendly car, which is featured in their advertising.
Nissan claims the 2016 Cube is capable of averaging 19 km / L (5.26 L / 100 km) in Japan with its Xtronic CVT transmission.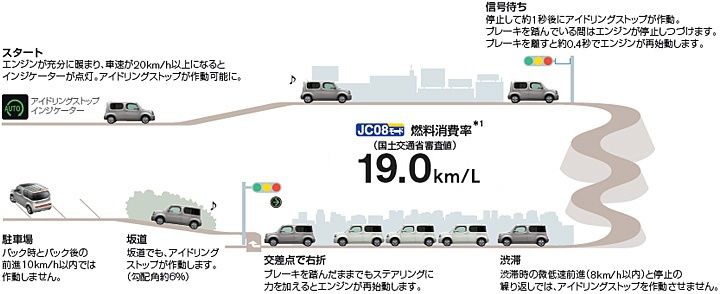 The Cube's ECO mode together with digital display showing real time information allows drivers to better control their fuel economy.
An extensive list of interior design schemes and accessories are available for the Nissan Cube to encourage personalisation, meaning that when buying secondhand it's typical to see many different variations.






Accessories include multicolour appliqués that can be placed around air vents and window switches, utility hooks and elastic bands in different colors, variable color LED accent lighting for the footwell and cup holders, and a sculptured piece of colour-coordinated carpet that sits in the recess on the top of the dash.
Lots of hidden storage spaces are also a feature of the Nissan Cube.

Mechanically, the Nissan Cube Z12 is based on the Renault-Nissan Alliance's front wheel drive "B platform" and is powered by a 1.5 L HR 16-valve engine with 109 PS (80 kW / 108 bhp).

The 1.5L HR15DE engine has a dual injector system for increased torque and acceleration for easier overtaking and variable exhaust valve timing allows improved fuel consumption. The Xtronic CVT was also improved in 2016.
For North America, it uses a 1.8 L four-cylinder engine producing 91 kW / 122 hp and 127 lb·ft / 172 Nm of torque, and in Europe the Cube uses the HR 1.6 petrol and 1.5 dCi Diesel.
In Japan it was offered with a 6 speed manual transmission or Nissan's automatic Continuously Variable Transmission (CVT), but in reality the Cube Z12 was sold almost exclusively in Japan as an automatic with the 6 speed manual virtually non-existent in secondhand sales.
The Nissan Cube Z12 was available in Japan in either 2WD or 4WD, with both models being eligible for import to Australia. The 4WD version has an electric rear wheel drive motor to assist the petrol engine-powered front wheels. The majority of Cubes sold in Japan were 2WD (over 95%), so the 4WD models generally take longer to source secondhand.
In early 2011, Nissan announced the Z12 Cube was to be withdrawn from sale in the UK and the rest of Europe.
In 2012 the Z12 model had no mechanical or styling changes, but Nissan did introduce a special edition version called the S Indigo which included a navigation system, rear view monitor, upgraded audio system, intelligent key and upgraded wheels.
New paint colours were also available from 2012: pearl white, brilliant silver, gun metallic, cayenne red, and Bali blue.
The Cube was discontinued in the North American market at the end of the 2014 model year, leaving the Nissan Cube Z12 once again a strictly Japanese-market model.
Nissan Cube Z12 Standard Models
As of 2016, the Nissan Cube was offered in 2WD as the 15X, 15X V Selection and 15X G.
Nissan Cube Z12 AUTECH Models
Three distinct AUTECH models were offered in 2016 for the Nissan Cube Z12; the Cube AUTECH AXIS, Cube AUTECH Rider, and Cube AUTECH Rider Black Line. Each with its own specification levels and colour choices.

Nissan Cube AUTECH AXIS
Designed for comfort and an "elegant calming effect".  AXIS standard features include leather seats with piping, 16″ alloy wheels with 195 / 55R16 87V tyres, LED fog lamps in AXIS styled front bumper and grille, plastic weather strips for windows, self-deodorising carpets with AXIS emblem, 4 speaker sound system and plated inner door handle.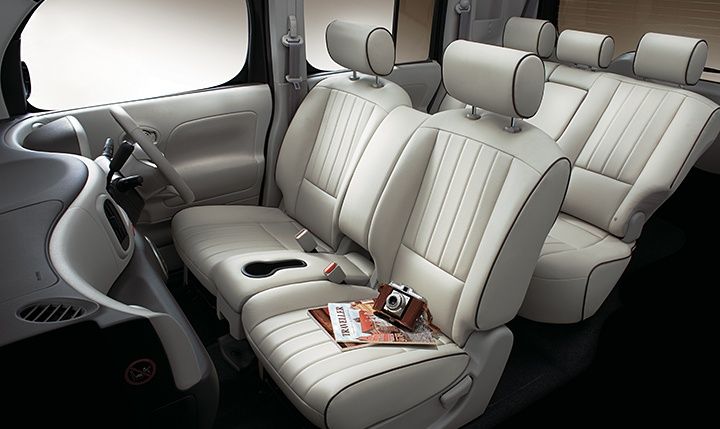 Nissan Cube AUTECH Rider
The Rider is the Cube sports model. Standard options include Rider front bumper, grille, sill protector, Rider seat cloth and dash trim, tuned and lowered sports suspension with Yamaha rear dampers and 16″ bright aluminium wheels with 195 / 55R16 87V Le Mans LM703 tyres to make the best use of the improved body rigidity, aluminium brake and accelerator pedals, vehicle speed-sensitive electric power steering, silver trim finish for interior, intelligent airconditioning system with one-touch clean switch, 4 speaker sound system, plastic weather strips for windows and self-deodorising carpets with Rider emblem.
Optional extras included Rider rear bumper and roof spoiler and HKS sports muffler.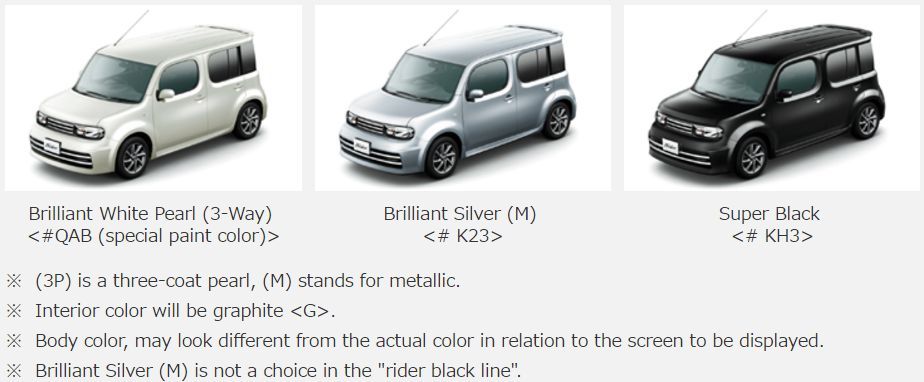 Nissan Cube AUTECH Rider Black Line
Based on the Rider model, additional standard features included dark chrome front grille, bumper grille and dark Rider AUTECH emblem, as well as roof spoiler and bi-xenon headlights (high / low beam with auto leveling).
Offered in only two colour choices: brilliant white pearl or super black.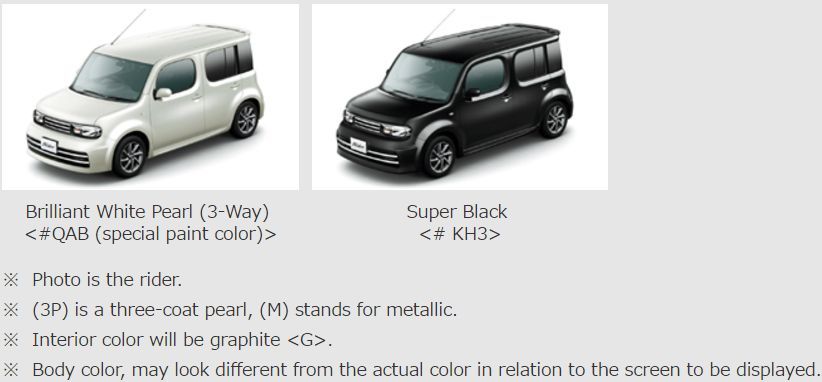 Nissan Cube Pictures