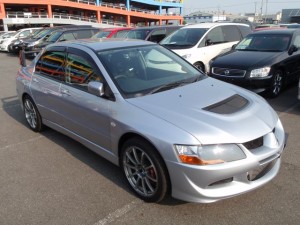 Hi Geoff
My EVO 8 MR is on the road. I love it. Both compliance workshop and VIC Roads mechanics say it's the cleanest EVO they've seen come in. Being grade 5 A and only 15,500 kms it's in absolutely immaculate condition. I can only describe it like 'as new' condition. It's far exceeded my expectations. Well done!
The car ended up costing right on the estimate so your guidance was quite accurate despite the fluctuations in our Aussie dollar. Thanks for all your support over the weeks. Now that I'm familiar with the importing process and time of wait, I wont panic next time I plan on importing again. I'll definitely recommend you to my friends if they want to import as well :o) Overall, I'm extremely happy with the outcome, if I would have to give you feedback the only surprise I had was that it only came with one immobiliser key. However, I can just bring in the car to Mitsubishi and they should be able to fix me up with another key. These things happen, but in light of things, you've done a fantastic job in sourcing me a near perfect EVO 8 MR at a great price.
Cheers,
David :o)
View more pictures for this 2004 Mitsubishi Lancer EVO 8 MR.